Walking Tours Spain - Hiking Trails:
Winter Walks in and around Cabo de Gata Natural Park

From San Jose to Escullos Beach:
---
Walking Tours Spain- Cabo de Gata Natural Park: This walk is a bit longer and doing it from a start point of San Jose gets the difficult bit over first. If I can do it, its not that difficult but does require good footwear and a bit of a puff to reach the heights above Cala Higuera. Even in winter, copious amounts of water are required,at least a litre and oranges I think are the best form of refreshment. On this occasion, I actually did the walk with my partner as well as the dogs! He is not so keen on walking as me,at least not any distance, but I had waxed lyrically about this particular hike for years and so with the chance of friends meeting us at Escullos, he jumped at the opportunity to share it with me.
Back to Top
of Walking Tours Spain
View from Higuera cove back to San Jose
We set off from the far end of the rambla at San Jose and started the muscles working up the gentle incline to Higuera. The dogs had no such qualms and bounded off excitedly with the joy of children knowing we were all in for a treat. The sun was hot and even at 9am in winter was beaming across at us. As we rose above the cove so did the sun. This is the slightly difficult bit, uneven under foot and a fair degree of steepness but oh my, with the sun on the Tower on the sharp peak above the path, what views! We rested and took some reviving gulps from our water. The dogs galloped ahead inviting us on. I am not good at heights and although the edges are not that close at the top I like to just get past the drops in order to put more space between me and the dizzying plunge to the ocean way below.
Back to Top
of Walking Tours Spain
Striding out............ On into the distance
The track becomes easier. I really feel here, that the world is left behind with panoramas to gasp at, colours of every hue, sea birds wheeling below and raptors above. There is evidence of habitation from years ago and no conurbations for miles. We all revelled in the solitude and freedom. A couple of massive boulders block the old track that did lead to the quarry and here too, the Guardia and National Park officials occasionally appear in 4x4's or on motor bikes. On that day we did not see them. We 'oranged' out on a convenient rock near what was an old natural water hole with spiky palms ferreting their roots down to water that our dogs found too.

Back to Top of Walking Tours Spain
The defunct quarry
The old mansion that must have housed the quarry master is more of a shell than I remembered. Redstarts and Spanish wheatears have made their homes there now. The view out to sea from here is divine! The quarry appears to be defunct today. It does not seem that many years ago that lorries rumbled up and down from Escullos on the reasonable dirt road. Little paths lead down to coves and rocks, which the dogs ran up and down but we did not.
I knew how much further we had to go! Formations below and above gave vent to imagination, lions, porpoises etc., were not hard to visualize in the natural rock sculptures. We did meet one intrepid couple who were not sure if they could get through. Discussing the walk, we found they were fellow motor homers who were on the site set back from Escullos. It was the first time they had attempted this particular walk and I hope it was not too much for them. They would have had to walk back! We had our lift organised!

Back to Top of Walking Tours Spain
Hidden coves
Even the dogs were not rushing so much at this point. We rested again and they helped us drink our water. A fruit and oat bar hit the spot and after many photo calls, we continued. Another phenomenon caught my eye. An almost pyramid profile of stones reared up apparently built of small uniform red rock and mud in no particular shape. It was natural I think, but it did not look quite right. It resembled, to me anyway, an upright Devil's Causeway! These are basalt formations I have since discovered.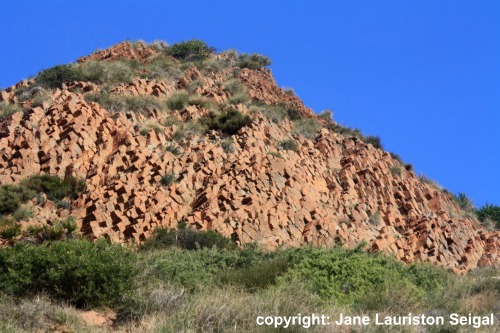 The Basalt Formations
I always forget just how long this walk is. Another bend finds yet more views to enjoy, more signs of ancient shepherd's cots and constant sightings of boats both small and large in the vast deep blue yonder. A restored house, undertaken by the National Park on the side of the hill above Escullos in a stunning position gives a small insight into ancient habitation that was dotted about here in years gone by. Now no more restoration or building is allowed leaving this area to nature and dedicated appreciators of silence and space.

Back to Top of Walking Tours Spain
Looking back to the Tower Higuera
As the view opens up to the old Batteria at Escullos and a very ruined old mansion, La Isleta del Moro can be seen in the distance. The twin volcanic peaks loom above. We could see our lift, a mere dot in the car park and I hoped refreshment was planned. We paused at the evocative memorial to a beautiful young girl whose history I do not know. Family and friends often walk to this stone built commemorative edifice complete with her picture and I often wonder what happened to her. Perhaps she was riding her horse through the rocks and she came to grief. I hope her family and indeed, the girl herself know that she is prayed for, thought of and not just by those that knew her.
The stupendous view at the end of the walk to Isleta del Moro
These little beaches south of Escullos are wonderful. One is beneath stark white cliffs and can be reached by a tiny track. This tiny cala changes over the years depending on storms I imagine. The two other little beaches are much used by fishermen and folk launching small boats. We have also watched the local diving school bring pupils to learn and hone their skills in these perfect waters. That must be a delight.

Back to Top of Walking Tours Spain

My story for this beach is when we stayed the night on the headland and I was having my morning cuppa (in bed!). I was informed that emerging from a ramp on a converted British horse-box parked on the fisherman's beach, was a line of chickens! Tea un-drunk I hurriedly dressed and went to investigate. Again travellers of an alternative kind who were wintering in Southern Spain and as well as herb boxes on the back of the lorry, underneath, a coop had been fitted complete with said ramp for 6/8 chickens. 'Food on the go' I was laughingly told! I asked how on earth these birds were rounded up. 'Easy' came the reply and the guy picked up a broom and just showed it to them. Without him touching a feather, they scuttled back up into their roomy quarters!!! They had apparently lost one on an evening when they were still out at dusk. An eagle had swooped silently down, gathered one up in his talons and just as silently disappeared into the night. No time for a rescue! I have more stories of this couple but that must wait for another time.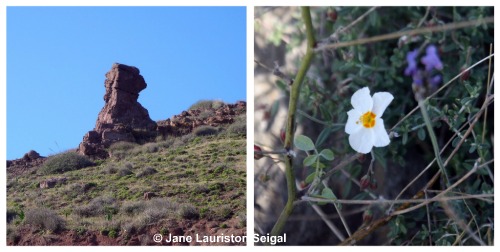 Prehistoric monsters & Early cistus
We strolled back down the hill, watching the dogs playing with some other quadrupeds who had come to meet us and we felt that very British tradition creeping up! We were not disappointed. Our friends had put the kettle on as soon as they had seen us. They too are motor homers you will not be surprised to learn. Not walkers, they were still very keen to look at our photographs and enjoy the walk from their armchairs!

Back to Top of Walking Tours Spain

Not least because of the views this walk will take 4 hours of most people's time depending again on the starting point. Again about 7/9kms I believe if my pedometer is reliable.
Hiking Trail Map: From San Jose to Escullo
---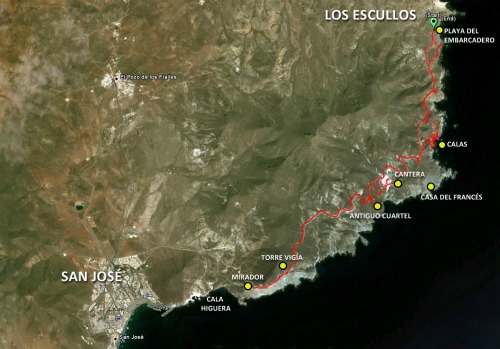 Back to Top
of Walking Tours Spain
---
Return from Walking Tours Spain to find more exciting Hiking tours here>>
---