Best places to visit in Europe:

The towns and villages of Almeria's province
Some of the best places to visit in Europe are located in the province of Almeria: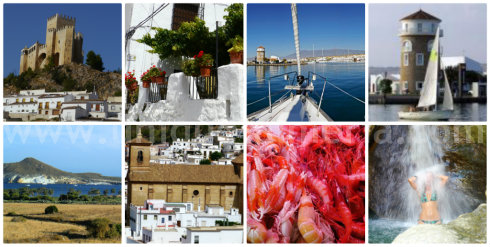 Small Spanish villages, lost hamlets tucked away in the mountains, picturesque fishing villages with unspoilt beaches, white-washed Andalusian villages, where time stood still during the last centuries. 
Note:
Please zoom in and out the following maps, clicking on the blue marks to visit each place or scroll down and choose a place from the underlined towns and villages. 
Towns and villages, with a rich prehistoric past where many civilisations left their traces behind. Los Millares, Phonecians, Iberians, Carthagianians, Romans, Moors and Christians… all of them chose this Mediterranean corner to settle down. 
Here you may literately travel back in time, slow down and relax. On this page, you will discover some of the most remote and best places to visit in Europe, all of them are located in the Andalusian province of Almeria (Southern Spain).
---
Ready for a rural Spanish holiday? Dive into a different world, slow down, enjoy and relax…. – Happy Browsing!
Click on images to enlarge!
The Alpujarra and Andarax Valley
Al-Andalus' hallmark pure! It is here were in 1489 the Muslim king "El Zagal" crossed the Laujar de Andarax and about 20 years later, the king "Boabdil" found shelter in Fondon, after the Catholic Monarchs down-sized his kingdom. Whitewashed villages that have continued and maintained the moorish flavor and architecture, growing wine and fruits. A journey through history: 
View
Map of Almeria (Spain)
in a larger map
The towns and villages of this region are:
Upper Andarax Region:
Alcolea-Darrícal, Bavarcal, Fondón, Laujar de Andarax, Paterna del Río
Medium Andarax Region:
Alboloduy, Alhabia, Alhama de Almeria, Alicún, Almócita, Alsodux, Beires, Bentarique, Canjáyar, Huécija, Illar, Instinción, Ohanes, Padules, Rágol, Santa Cruz, Terque

Low Andarax Region:
Benahadux, Gádor, Huércal de Almería, Pechina, Rioja, Santa Fé, Viator
---
Los Velez Region:
Located in the North of the Province, this area is dominated by the Sierra Maria-Los Velez Natural Park. It is one of the richest area in the Mediterranean in terms of fauna and flora. This area is also home to the Indalo and many other ancient cave paintings as well as the Castle of Marquis de los Velez.
View
Map of Almeria (Spain)
in a larger map
The towns and villages of Los Velez Region are:
Chirivel, Maria, Vélez Blanco, Vélez Rubio
---
The Levante Region:
This Eastern corner of Almeria is a permanent praise to the five senses, offering sun and beaches to be enjoyed even in winter months. Writers such as Juan Goytisolo, Virginia Wolf or Gerald Brenan and other artists of all times recognised the special character of this region, choosing some of these towns as their destination:
View
Map of Almeria (Spain)
in a larger map
The towns and villages of Levante Region are:
Bedar, Carboneras, Garrucha, Los Gallardos, Mojácar, Turre, Vera
---
Valley of Almanzora
I dare to say this is the richest part of the Province, thanks to the marble quarries of Macael, which provide 95% of the Spanish marble production and goes back as far as the Phoenicians. You may admire this white gold in the Alhambra of Granada and Generalife. Today it is exported to many parts of the world. Also, to be highlighted, the village Seron, famous for its Spanish ham production and the natural pool "Balsa de Cela":
View
Map of Almeria (Spain)
in a larger map
The towns and villages of Almanzora Region are:
Upper Almanzora Region:
Alcontar Armuña, Bacares, Bayarque, Lúcar, Purchena, Serón, Sierro, Somontín, Suflí, Tíjola, Urracal

Medium Almanzora Region:
Albanchez, Albos, Arboleas, Cantoria, Fines, Larova, Lijar, Macael, Olula del Rio, Oria, Partaloa, Taberno

Low Almanzora Region:
Antas, Cuevas del Almanzora, Huercal Overa, Pulpí, Zurgena

Go to Top of Best places to visit in Europe
---
Filabres - Sierra Alhamilla - Rio Nacimiento
The contrast of this region is breathtaking. The Filabres mountains boast forests, lost ancient villages and the Astronomical observatory "Calar Alto". It is here where you may enjoy the clearest sky of all Europe. A few minutes drive by car, you will find yourself in the middle of the Desert of Tabernas with its western towns and the largest Solar Energy Power Station of Europe. Continue your journey to Sorbas where you will be able to admire Europe's largest gypsum karst area and caves.
View
Map of Almeria (Spain)
in a larger map
The towns and villages of this Region are:
Rio Nacimiento Region:
Abla, Abrucena, Fiñana, Gérgal, Nacimiento, Tres Villas

Los Filabres Region:
Alcudia, Benitagla, Benizalón, Castro de Filabres, Cóbdar, Chercos, Lubrín, Olula de Castro, Senés, Tahal, Ulaila del Campo, Velefíque

Tabernas Region:
Lucainena, Sorbas, Tabernas, Turrillas
---
Poniente Region
It is here on the Western coast of Almeria, where La Alpujarra drops down to the sea, offering panoramas of great contrast. On one side, towards the north lies the Sierra de Gador and at its foot the blue sea joins with a "sea of plastic" - the largest greenhouse area and food chamber of Europe! Tourist complexes and striking beaches is awaiting you here, together with many historic sites.
View
Map of Almeria (Spain)
in a larger map
The towns and villages of the Poniente Region are:
Río Grande Region:
Adra, Berja 

Campo de Dalías Region:
Dalías, Enix, El Ejido, (Almerimar), Felix, La Mojonera, Roquetas de Mar, Vícar
---
Nijar Region
This is one of the last unspoilt corners of Europe and truely one of the best places to visit in Europe . A still unknown paradise, boasting virgin beaches and hidden coves as well as charming fishing villages, all nestled in the Cabo de Gata Nijar Natural Park, which was declared a bioreserve by the UNESCO in 1997.
View
Map of Almeria (Spain)
in a larger map
Towns and villages in Níjar Region: 
Aguamarga, Cabo de Gata, La Isleta del Moro, Las Negras, Los Escullos, Rodalquilar, San Jose

Go to Top of Best places to visit in Europe
---
Almeria City - The Mirror of the Sea

Last but not least, Almeria City , the capital of the Province! It boast many sights, being one of the most important of course the Alcazaba. It was Abderraman III who order to built this fortress which is not only the largest one in Spain but in Europe.
View
Map of Almeria (Spain)
in a larger map
I will be adding more and more pages from our visits to these places. 
---
Return from best places to visit in Europe to Unique Almeria...

or...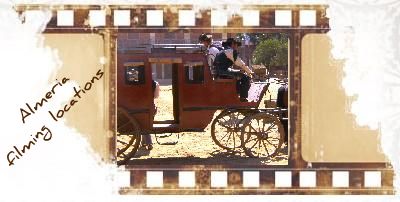 ...here are more best places to visit in Europe: Almeria's filming locations >>
---