Many Ancient Civilizations left their traces in Almeria, Spain
If you love to explore ancient civilizations and prehistory, then Almeria is definitely your place. The following are only a few of the many archeological sites that form part of the European pre-history. I'll try to give you a short overview here:
Prehistory
---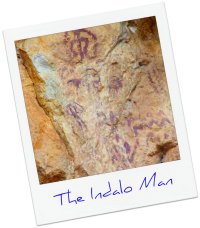 The Province of Almeria was populated by Neolitic and Palaeolithic civilisations who left their traces in the Almanzora caves.
Thus, famous cave paintings were found in the cave 'Los Letreros' in Velez Blanco, like the INDALO that became the symbol of the entire province. All these cave paintings were declared 'World Heritage' by the UNESCO.

However, it is the Ambrosio Cave, that recalls the most ancient settlers, a prehistoric community which settled in Los Velez more than 18.000 years ago.
| | |
| --- | --- |
| The Indalo | El Brujo |
Everybody knows the famous Indalo, the Good Luck icon of Almeria Province. But interesting enough, this icon, called "El Brujo" (The Sorcerer) was found in the same cave, right next to the Indalo (The Rainbow Man) in Velez Blanco.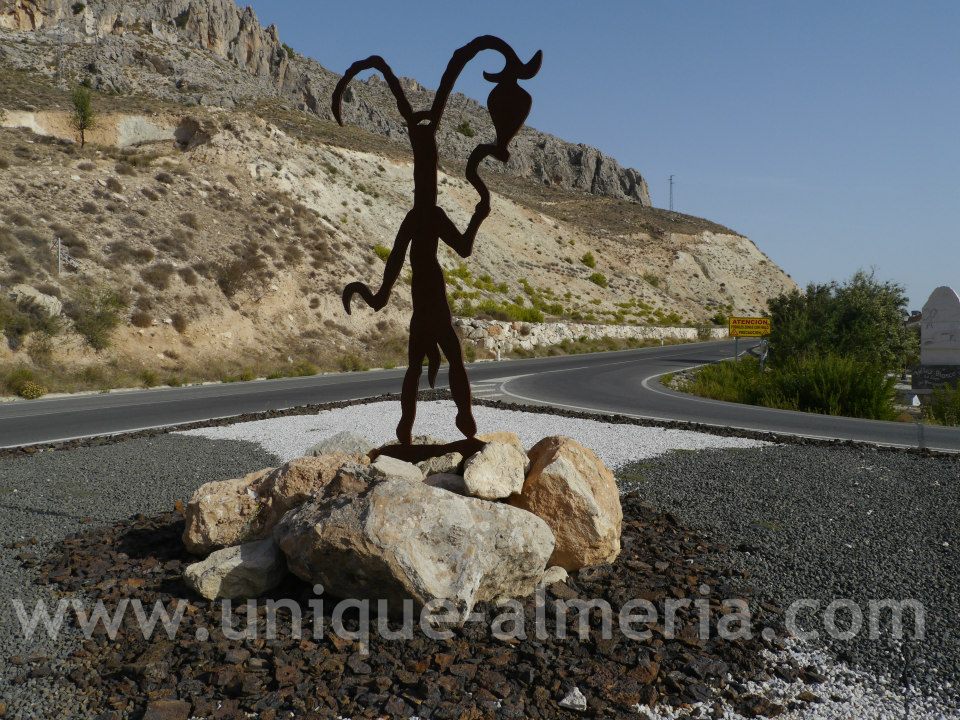 "El Brujo", at the entrance of the town "Velez Blanco"
In total there are 25 cave painting sites in the Los Velez region, distributed between the the towns Maria, Chirivel, Velez Blanco and Velez Rubio.
The Copper Age (3200-2200 B.C.)
---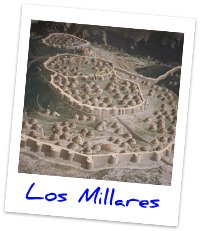 Later, the people 'Los Millares' left their traces in Santa Fe de Mondujar. It was a population of more than 1000 inhabitants. In 1891, Luis Siret carried out the first excavations and recognized its historical importance. Thus, 'Los Millares' in Santa Fe de Mondujar is believed to be one of the most significant archaeological sites of the Copper Age. An important civilisation was developed, which was pioneer in introducing copper metallurgy in the Western Mediterranean
Before you actually visit the Los Millares site, located in Santa Fe de Mondujar, I highly recommend you to visit the Archaeological Museum in Almeria city first. It covers Almeria's history as well as its ancient civilizations from Prehistory to the Muslim period.
The Bronze Age (17001 - 1400 B.C.)
---
During the Bronze Age,the eastern area of the Province of Almeria, namely Levante area was populated by an equally influential culture, El Argar. Archeological sites were found in the town of Antas. A characterisitic pottery style was developed. Their necropolises were more developed than those of 'Los Millares' and agriculture and livestock breeding became more diversified.

Return from Ancient Civilizations to Unique-Almeria
---