Use the best Cheap European Flights Scanner to find cheap flights to Almeria Spain and spend some really cheap holidays in Spain
This ' Cheap European Flights ' Scanner will help you to find the cheapest flights, no matter which European destination you choose. I found that it is currently the most reliable way to find ALL cheapest flights to Almeria, Malaga, Alicante, Murcia etc. since it keeps track of the ever changing airline companies and time-schedule. It comes back with all low-cost and charter airlines. You may even use it for flights outside Europe:

I usually book with VUELING the best Spanish low-cost air company, flying into Almeria and Granada from many European cities! 
I highly recommend you to go directly to their site and search for a cheap flight right-clicking here >>
However, if you were not lucky with Vueling, go and use the below scanner:
There are different alternatives to come to Almeria:
---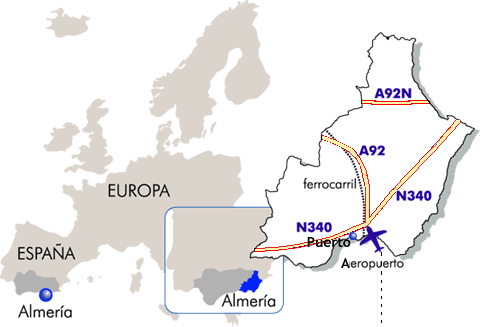 Map courtesy of Excmo.Ayto.de Almeria
By plane:
---
You can either go for "All Inclusive Holidays to Spain" here >>, or design your own holidays by yourself.

Depending on your final destination town within the province of Almeria, you may want to consider to fly into Alicante, Murcia , Granada or Malaga airport.

If your destination is for instance the Levante Region, lets say you want to go to Mojacar, you may also want to consider the Murcia or Alicante airport, hiring a car and drive to your destination or book a shuttle service that brings you to your holiday resort:

Distance from Murcia airport to Mojacar 156 km (approx. 1h 45 min drive)
Distance from Almeria airport to Mojacar: 80 km ( approx. 1 hour drive)

If your destination is the Poniente Region, lets say Roquetas de Mar or Almerimar, you may also want to consider the Granada and Málaga airports (about 1 and 2 hours drive respectively).

As I mentioned before, the above ' cheap European flights ' scanner brings you back ALL flights and prices available from your departure airport to your destination airport. Simply type in Almeria,Alicante, Murcia or Granada. It won't fail!
---
The following is a list of all airlines flying into Almeria airport. However, some of them only operate during summer months. If you fly in from a non European country, you will have to choose from the following hub cities. Again, the easiest way to check is by means of the above flight search box.

Flights to Almeria from London Gatwick (UK):
Thomas Cook
EasyJet

Flight to Almeria from London Stansted (UK):
Ryanair

Flight to Almeria from East Midland (UK):
Bmibaby (only operates from 10th July 2010 to 11th September 2010)

Flight to Almeria from Birmingham (UK):
Monarch (does not operate before April 2010)

Flight to Almeria from Manchester (UK):
Monarch (does not operate before April 2010)

Flights to Almeria from Düsseldorf (Germany):
Air Berlin (1 stop in Palma de Mallorca)
Ryanair

Flights to Almeria from Brussels (Belgium):
Jetairfly

Flights to Almeria from Tangier (Morroco):
Andalus



---
National direct flights to Almeria airport

AirNostrum from Barcelona and Madrid (Spain)
Air Berlin from Palma de Mallorca (Spain)
Andalus from Barcelona and Madrid (Spain)
---
Flights from UK to MALAGA:
There are very cheap european flights from UK to Malaga from:

Birmingham, Bristol, Bournemouth, London Stansted, Eat Midlands, Liverpool, London Gatwick, Glasgow Prestwick, Leeds Bradford, Doncaster Sheffield, Manchester, Cardiff, London Luton, Edimborough, Belfast International, New Castle, Glasgow International, Exeter, Blackpool, Southampton, London Heathrow, Humberside (UK):
Flights from Germany to MALAGA
There are very cheap European flights from Germany to Malaga from:

Bremen, Frankfurt Hahn, Düsseldorf Weeze, Berlin Schönefeld, Berlin Tegel, Nürnberg, Köln, Düsseldorf International, Stutgart, Frankfurt am Main, Munich, Hamburg International, Hannover Münster Osnabrück and Westerland Sylt.

Just type in the above box your desired departure airport and Malaga as your destination airport and you will obtain all cheap flights available, some starting at 19,63 Euros!! – Awesome!

Return from cheap European Flights to Unique Almeria Travel Guide
---