Best Wine Tours in Spain
La Bodega de Alboloduy
Our best Wine Tasting Tours ever:
If you love wine tours and appreciate good wine, you may want to check out our hidden gem, in the unknown Alpujarra of Almeria.

The first time we visited the Bodega de Alboloduy we were so impressed (read about the first of our wine tours here >>) that we decided to visit the Calvache Family again, for two good reasons: we wanted to know more, receive a lesson about wine tasting and second, buy more of that awesome grape juice!!

This time we booked the below tour here (click for details):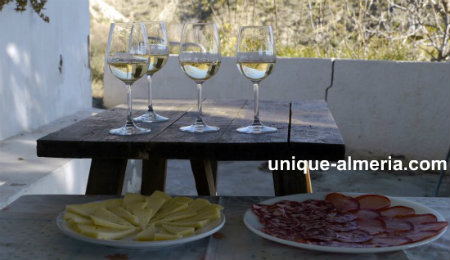 Much to our surprise we not only learnt about how to actually taste a wine (not just drink it!), but also had a fantastic lunch, so typical and authentic that it is almost impossible to find anywhere else. Why? Because it was prepared by the Calvaches' themselves, at their very own "Cave Restaurant". Actually it is not a Restaurant, it is a cave, typical in this area, owned by the family and used by them for their visitors as a special treat. Awesome! The temperature inside is naturally cool in summer and warm in winter! So cozy!!
From the terrace we had a wonderful view over the valley, full of Orange, Olive and Almond trees..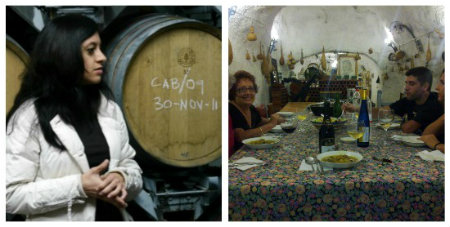 Here a bit more information about the Bodega and the wines and wine tours I gathered. Look at the impressive list of awards!
Paco's daughter, giving name to International Award Winning Spanish wines:

Today, this young winery puts Almeria amongst the most award-winning in Spain: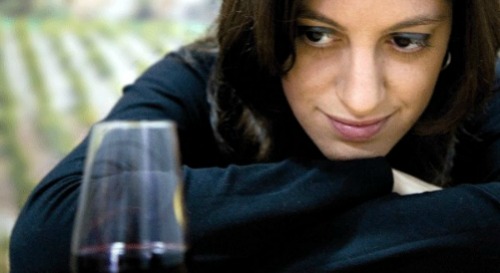 The following are not all awards, due to the wine tasting session, I missed to take note of the newer ones (2010 and 2011).. guess you understand?

In 2009, the Bodega de Alboloduy conquered 12 International Awards from the most prestigious wine competitions in Europe: 7 Gold Medals, 4 Silver and 1 Bronze Medal, all awarded to different wines of the "Cristina Calvache Collection":


Berliner Wein Trophy: 1 Gold

Vinalies Internationales Paris: 1 Gold and 1 Silver

Concours Mondiale de Bruxelles: 1 Gold

London International Wine Challenge: 1 bronze

Mundus Vini, Germany: 2 Gold
In Andalusia:

Premios Mezquita, Cordoba: 1 Gold and 1 Silver

Cinve 09, Sevilla: 1 Gold and 2 Silver
This generous harvest coupled with the earlier ones in 2007 and 2008, form a track record of some thirty international awards. Today, "La Bodega de Alboloduy" is the most award-winning winery in Andalusia.
This is specially surprising, taking into account the difficulties involved in developing this project in an area, unfamiliar to the national wine scene and also because it is being managed by a young woman. Cristina Calvache, enologist, is the soul of this family run winery. Thanks to her effort, hard work and determination La Bodega de Albolody is making its way into the difficult world of the wine commerce.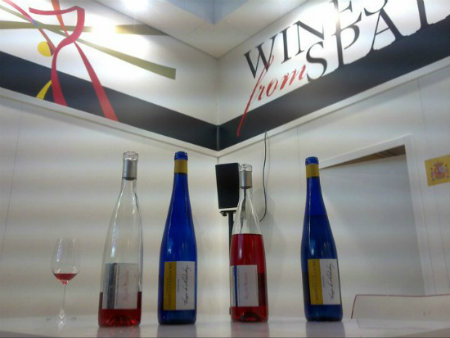 Christina Calvache graduated from University of Almeria where she earned her Agricultural Technical Engineer degree. She also holds a degree in Enology from the University of Cordoba and Master degrees in Viticulture, Enology and Wine Management from the Enology School of the Basque Country. She complemented her studies with many months of practice in several wineries in the most renowned wine region "La Rioja" in Northern Spain.


The following are some awards from former years: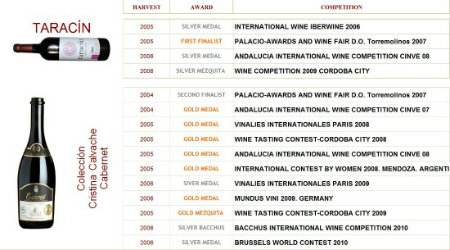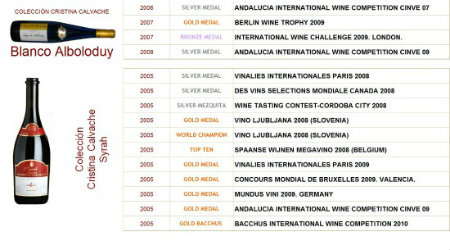 One of their Wine Tours they offer:


· 09:00 – Departure by bus from Almeria city to Alboloduy.
· 10:30 – Visit to the vineyards of Alboloduy Campillo. Technobabbel spot on the cultivation of the vine.
· 11:00 – Start of the theoretical-practical course of enology and Wine Tasting given by the enologist Cristina Calvache.
· 14:00 - Typical "Alpujarreño" lunch.
· 16:00 - Visit of facilities in the cellar where they explain the process of developing different types of wine.
· 16:30 - Delivery of Diplomas of Attendance to the course.
· 17:30 – Departure by bus to Almería



On request, Paco Calvache also offers wine tours to his " Sacred Montenegro ". You may use this form to contact Paco.

Also, apart from offering wine tours the Calvache family is still looking for some International Distributors. So if you are a Wine Cellar Shop or Distributor, and want to offer a real gem to your clients, La Bodega de Alboloduy will be a great option!



---