First-hand Spanish Wine Information ...
...gathered during our Wine Tasting Tour with Bodega de Alboloduy
- the most award-winning winery of all Andalusia! -
To collect Spanish wine information, we recommend to visit a Bodega! During our last holidays, we only got up early once and it was more than worth it. 

We had scheduled a wine tour with Francisco Calvache (Paco), owner of the Alboloduy Bodega.
What we experienced is almost impossible to describe, because it is all about awesome impressions and senses that one will never forget. However, I shall do my best to wrap it in words, even running the risk to sound soppy. 

The day before, on our way to our favourite hiking tour to the Balsa de Salobre, we popped into the Alboloduy Bodega, next to the village with the same name. The "Vendimia" grape harvest had just concluded, and although busy, Francisco Calvache kindly invited us to taste a cool white wine, which turned out to be an award winning one. – I still keep the beautiful blue bottle, although empty, which perfectly reflects the cool refreshing taste of the grapes, just as a reminder to buy more, on our next visit. (Read about how we gathered even more Spanish wine information on another day click here >>) 
Francisco Calvache's holy mountain:
- El Montenegro - (The Unknown Alpujarra)
---
Do you know what it means to feel like God? - Watching the sunset from above the clouds from the top of El Montenegro! 
Next day, we joined Paco on a ride to El Montenegro, ready to receive some Spanish wine information. While driving up the mountains, the landscape turned more and more captivating. There is a sacred energy up there that defies description and it permeates the culture and the landscape. It must be experienced to be understood.
Dazzled by the beauty of the sunrise and the spectacular scenery of untouched nature, we listened to Paco who told us about the history of "his holy mountain", about former farmers who once used to cultivate grapes, almonds and olives. We came across several, idyllic, abandoned cortijos that made me loose my sense of time and I recalled that the first vineyards in Spain were planted in Andalusia around 1100BC by the Phoenicians… 
The Vineyards of Campillo de Alboloduy:
---
Our first stop: The Campillo de Alboloduy is a vineyard located at an altitude of between 700 and 850 m. The croplands are mostly structural of slate and other limestone. Paco explains: "Many of the grapes grow on dry soil, perfectly adapted to this Mediterranean climate for decades."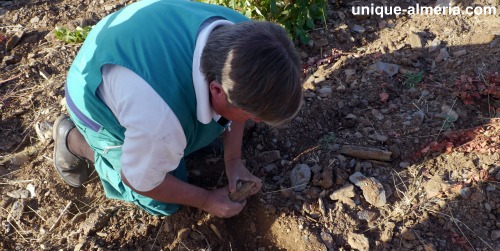 "Our success is based on a wine-friendly environment, because our vineyards are strategically located in the highlands and Andarax Valley Alboloduy, sunny and well ventilated, which prevents the occurrence of diseases, thus achieving a premium quality grape.
Some of our croplands count on drip irrigation, so we get the water contribution necessary for the plant at each stage of cultivation. We produce a type of wine that fully respects the environment, not using any pesticides nor chemical fertilizers. Manure is used as natural fertilizer and for preventive treatments we use sulfur and bordeaux mixture. In the event of a plague, we use biological insecticides."
Brunch at Paco's Cortijo, hidden in EL Montenegro
---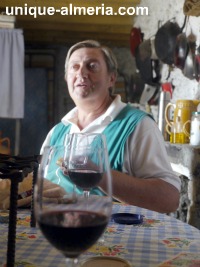 Our ride continued up to a typical cortijo, where Paco invited us to an awesome brunch BBQ. I never tried such a delicious grilled lamb, ham and cheese and of course all this accompanied by another award winning red wine from the Cristina Calvache Collection ! 

I don't know if it was the wine or the panoramic view of the valley below, or the surrounding mountains, but all of a sudden I felt like…. God!
On our way back, we stopped to admire an old restored water drill, awesome mountain canons and, we even spotted some Wild goats (Capras hispanicas) 

If you should be interested in experiencing such an adventure, feel free to contact Paco Calvache here: 
or 
get more Spanish wine information about the Bodega de Albolody and their wines here >>
---
---