Exploring Cabo de Gata - Nijar Naturalpark
One of Spain's 7 Natural Wonders
Experience a sense of other-worldliness

Cabo de Gata Points of Interest:

What to do:

Villages and Holiday Resorts:

Where to Stay:
Cabo de Gata–Nijar Natural Park, is nestled in the wild south-eastern corner of Spain, in the province of Almeria, and is one of the last relatively unspoiled stretches along the Mediterranean. It is a mesmerizing and captivating arid landscape of perfect half-moon bays, hidden coves, ruined castles, dizzying cliffs, extensive coral reefs, volcanic rock formations, and spectacular flora and fauna.
The rain seldom falls on this vast barren terrain making it the driest part of Europe. Nowhere else in Spain is as scorched by the sun, the heat shaping the area's peculiar ecology and landscape. This open geological museum covers 46,000 hectares, stretching from Retamar to the east of Almeria, to the Barranco del Honda, just north of Agua Amarga. There are diverse habitats including fossilized beaches, saltpans and dry riverbeds, and the area's rich mineral content is evident in the reds, oranges and yellows of the exposed rock faces
---

View Map of Almeria (Spain) in a larger map
---
The quality of light and magnificent scenery of this land that time forgot make it one of the great film sets of the world, and it has provided stunning backdrops for hundreds of movies including A Fistful of Dollars and Indiana Jones and the Last Crusade.
Protection from the Concrete Coasts
---
Cabo de Gata is a terrestrial-maritime nature reserve, and unlike many other areas on Spain's Mediterranean coastline has been protected from the cranes and cement mixers of construction companies since 1987 when the regional government, the Junta de Andalucia declared it a natural park. The initial decree covered 26,000 hectares, but this has been extended by law several times over the years. 
In 1997 the area was afforded even more protection when it was designated a UNESCO Biosphere reserve, a special conservation area that is created to protect the biological and cultural diversity of a region whilst also promoting sustainable economic growth. Biosphere reserves are established through the United Nations Educational, Scientific, and Cultural Organization (UNESCO) Programme on Man and the Biosphere (MAB).
Economic development of a biosphere reserve has to be compatible with the local environment and cultural practices of the people in the surrounding area. The ultimate aim is for a balanced and harmonious existence between human beings and nature that does not damage any part of the protected area.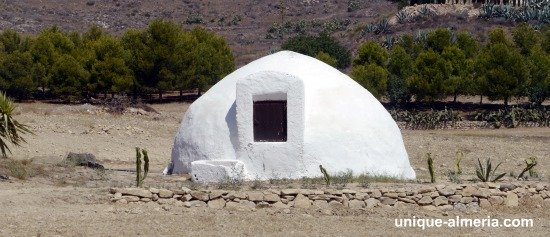 Cabo de Gata, like other biosphere reserves, is divided into three zones: the core area, buffer zone and the transition area. The core area is the centre of the reserve and is a legally protected environmental sanctuary. No activities can take place that will harm the natural environment or its inhabitants. Inside the buffer zone carefully managed use of the natural resources is permitted. One such activity is fishing.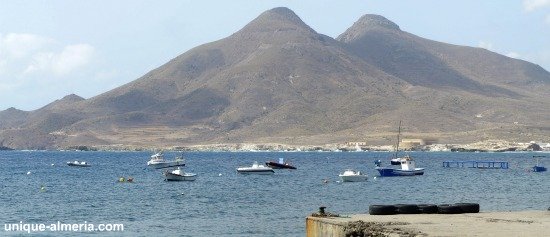 The transitional zone is the outermost portion of the reserve that may contain towns, farms and other human activities, and is where economic development is actively encouraged, hand in hand with sustainable use. Typically, local communities, non-governmental organisations, management agencies, cultural groups and scientists will work together to achieve these aims.
Cabo de Gata has also been designated a Specially Protected Areas of Mediterranean Interest (SPAMI), which is part of a wider international initiative to protect the Mediterranean Sea.
Spectacular Beaches
---
Nature has spoilt Cabo de Gata's coastline with unparalleled beauty. There are pristine beaches that are backed by wild plants, and secluded coves with soft golden sand, and all lend a sense of other-worldliness to the place.

Playa del Mónsul, considered by many to be the best beach in Spain, boasts crystal clear shallow water, and is flanked by overhanging crumbling volcanic rock formations. Approximately 400 metres in length, the beach is divided into two parts by a large chunk of rock, and had a starring role in Indiana Jones and the Last Crusade. It was the spot where Sean Connery frightens a flock of seagulls with an umbrella to bring down a German plane.
Playa de los Genoveses is a clam-shaped cove with a long sandy beach and shallow turquoise waters. It enjoys a serene, pastoral setting with a clutch of eucalyptus trees at its eastern end, and a hinterland of dried-out grasses and prickly pear thickets.
Another impressive picture postcard beach is Playa de los Muertos, which has the rather unflattering translation of the "Beach of the Dead". Don't let the name put you off; it is a stunning location with superb views from the surrounding cliffs, and is well worth the ten minute walk down a rugged cliff path to get there. The sea lapping this expansive and isolated idyll is clear, and the rock formations toward the north end of the beach are a visual spectacular.
Even in high season Cabo de Gata beaches are refreshingly quiet compared to the tourist hotspots of Costa Blanca and Costa del Sol. And in addition to stretching out under the hot Andalusian sun the natural park is a haven for a host of exciting aquatic activities. With clear visibility up to 20 metres diving, snorkelling and underwater photography are popular pursuits, as are windsurfing, kayaking and fishing.
Stunted Palms and Pink Flamingos
---
Despite the semi-arid conditions the soil of Cabo de Gata hosts a rich flora that has adapted to the rain-starved environment. There are approximately 1,000 species of vascular plants, which according to estimates is 12 percent of the total figure for Iberia. Some are endemic to the park including the pink snapdragon (Antirrhinum charidemi) which is known locally as Dragoncillo del Cabo. Europe's only native palm, the stunted dwarf fan palm (Chamaerops humilis) thrives here, as does the spectacular looking yellow-flowering Cistanche phelypaea, a parasitic plant that feeds on goosefoot.
One of Cabo de Gata's greatest resources lies under the sea. The offshore coral reefs and large underwater meadows of Posidonia oceanica (also known as Neptune Grass) are home to more than 1,400 species of animals and plants.
Video Courtesy: Jorge Chachero - DocumentAzul, S.L. - email: documentazul(at)hotmail.com
This lush submarine environment of flowering plants is amongst the best preserved in the Mediterranean, and provides food and shelter for the monk seal (an endangered species) and many types of crustaceans. The reserve extends one nautical mile into the sea to protect the marine life from commercial fishing. Species that live here include ocean sunfish, snappers, pollacks, eagle rays, barracudas, conger eels, red sea fish, and brown meagre and white breams.
The natural park's sand dunes and salt flats are amongst the most important wetland areas in Spain for migrating birds and have been designated a Special Protection Area for birds by the European Union. Birdwatchers from across Europe also flock here to see the magnificent pink flamingos as well as the storks, cranes, avocets, grey and purple herons and many other species of seabirds. And if you point your face skyward in other areas of the cabo you'll see ospreys, peregrines, kestrels and eagles.
On land there are several species of reptiles including the rare Italian wall lizard with its distinctive green back and head and dark brown mottling, grass snakes, ocellated lizards and mammals such as the wild boar and the least weasel, the smallest terrestrial carnivore on the planet.
Fascinating Places
---
Cabo de Gata is also famed for its mineral wealth and ever since prehistoric times people have burrowed into the rocks and soil to retrieve valuable deposits of agate, jasper, lead, amethyst, silver, and more importantly, gold. In the heart of this rugged area is the village of Rodalquilar and its abandoned gold mines.
The village sits in a valley near the sea and is circled by magnificent volcanic hills, palms and cactuses, and though the gold rush of the last century has long since subsided the neighbourhood should be high up on any traveller's itinerary.

Many of the miners' homes are still standing and some have been modernized to cater for tourists. Some of the old mining facilities can be visited and La Casa de los Volcanes is a geotouristic centre that has a wealth of information about the geology and mining activities around Rodalquilar.
La Isleta del Moro is a tiny and sleepy fishing village that takes its name from a small inlet that used to be the haunt of pirates in search of treasure. It's actually not an island but a small cluster of white houses, tiny streets and a main square, one end of which juts out into the sea. At the opposite end of the bay is the Playa de los Escullos where the two rocks of the Isleta can be seen, which locals say resemble a whale and its offspring. It was from these shores that Philip II and his armada sailed to fight with the Turks in the 16th century. The trees from nearby forests were felled to provide wood for the fleet.

Unspoilt Paradise
---
Cabo de Gata is a feast for the senses and one of the last paradises of the Mediterranean. It's a fascinating place to explore, and as many parts are only accessible by foot, the numerous nature trails are an excellent way to experience nature at her best.
With several layers of protection in place the pristine habitat is persevered and the impact of tourism is managed in a sustainable way. So there will always be something wonderful and uniquely special to offer tourists.
Relax on one of the Cabo de Gata beaches here >> or Take a Self-guided tour through the Natural Park Cabo de Gata here >>
---