Map of Almeria Spain & Costa Almeria
Map Southern Spain

Looking for the best map of Almeria Spain for you, I finally found out that the best maps are still those provided by Google. Thus, if you click on the one below, you will realise that it is interactive, which means that you can zoom in and out and explore the entire province and coast of Almeria.
No matter how small the hamlet is that you are looking for, you will find it on the Google map.
---

View Map of Almeria (Spain) in a larger map
Explore the above map, click on each icon to read more about each Point of Interest I have added so far. 
---
Cabo de Gata Maps:
---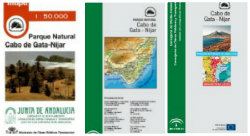 Find three downloadable maps of Cabo Hiking Trails
Find more downloadable maps here:
---
Please note that you will need an Acrobat Reader to download the following maps.
Almeria City map
Don't miss to include an Almeria City sightseeing tour while you are here! The following will be useful:
Download map of Almeria City here >>
Almeria Province map
In order to explore all hidden treasures, whitewashed villages and get an overview of the different regions with the province, the following map of Almeria Spain might be useful to you:
Download map of Almeria Spain Province here >>
Map of Southern Spain
Although nowadays, the best maps are being provided by Google (see above), you still might to download this one too:
Download Map of Southern Spain here >>

---
Popular Holiday Resorts:
| | |
| --- | --- |
| Mojacar, the "bewitched" moorish village and beautiful sea and beach promenades!  | Roquetas de Mar, a lively but not overcrowded seaside holiday resort. |
---
---