Sergio Leone Western Movie Locations
'For a fistful of dollars', what a splendid idea Sergio Leone had, to name his movie, shot in 1964 in the Desert of Tabernas (Almeria). Guess he did so, in order to laugh rather than cry while contemplating the inadequate budget of 20 million Pesetas (some 120,000 Euros). The Italian Director could not aim for the moon, so he had to content himself with a virtually unknown actor 'Clint Eastwood', who was cleaning swimming pools to survive from one month to the next.
Now, 51 years later and with three Oscars decorating his bookshelf, no doubt he still remembers Almeria, particularly the nine and a half hours ride from Madrid to the Desert of Tabernas , anticipating the dust and atmosphere of the Spaghetti Western.
If you are keen on knowing more about Sergio Leone's movie ventures in Spain and his relationship with Clint Eastwood as well as the ventures of the latter, I highly recommend you to read the following books. Unfortunately, for the time being, these are only available in Spanish. So for those of you who know this language (and I know quite a few of you do) don't miss this very well and extensively researched books by Carlos Aguilar:
I thoroughly enjoyed the Leone one, and I have just ordered the one about Clint Eastwood - real gems and I ask myself, how the heck did the Author trace so much great material and info? Definitely, the best researched books ever!
Clint Eastwood still remembers Almeria and the making of:
---
A fistful of dollars:
For a few dollars more:
Today, the desert of Tabernas is reached in half the time. There, next to the highway from Almeria to Granada, one will find the Mini-Hollywood, a western town built in 1965 under the instructions of Sergio Leone that he used for his second movie with Clint Eastwood and Lee Van Cleef. Since he had a little larger budget for the second film, Leone called it 'For a Few Dollars More' and it became a best seller, as did his following western shot the year after, namely 'the Good, the Bad and the Ugly' (Eastwood, Eli Wallach, and Van Cleef).
Well, this definitely confirmed that the desert of Almeria not only brings hits but also good luck. This is how Almeria turned into a big film location, attracting other important directors like Steven Spielberg and Franklin J. Schaffner.

Take a Virtual Tour to some of Sergio Leone's filming locations:
---
Example for A Fistful of Dollars locations:
View
A Fistful of Dollars
in a larger map
For more locations like: For a Few Dollars More, The Good The Bad The Ugly, Once Upon a Time In The West,Fistful of Dynamite ... right-click here:


Dan van Husen  - the "German Clint Eastwood" - not only remembers Almeria, he even returned!! 
---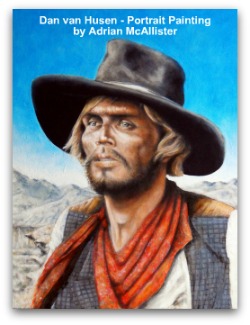 Yes, definitely, Almeria brings hits and luck, (after all it is the land of the Indalo!). 

Dan van Husen, a very famous German actor (and one of my favorites too), shares a similar background like Eastwood. He not only acted in 23 Italo Westerns but he played in the most popular German TV series too, such as "Der Alte" and "Gute Zeiten Schlechte Zeiten" to name only a few! 

Dan van Husen is one of those who recently returned to attend the Almeria Western Film Festival 2011,to which he was invited and where he received an award for "Life Achievement in the Western Film Genre", just like Eli Wallach, who returned to Almeria some time ago, accompanied by Anne Jackson and Carla Leone (Sergio Leone 's widow), where he was honored by the Council of Almeria.

I wish I had managed to go to this Festival too, I feel I missed a great opportunity to see one of my favorite actors live. Well, who knows, maybe there will be another opportunity. In the meantime, I enjoy viewing this showreel, while I am awaiting the release of "Tom Sawyer & Huckleberry Finn (2012)", where Dan will appear too: 
---
Jump from Sergio Leone to Mini Hollywood ..or.. Visit Almeria's Top Movie Filming Locations >> 

or Jump into John Lennon's strawberry fields... 

or go back to Almeria Travel Guide
---
---