Strawberry Fields Forever lyrics - composed in the Desert of Almeria
And here goes the making of Strawberry Fields Forever lyrics:

In the summer back in 1966, it was a common spectacle to see a black Rolls-Royce cruising along the streets of Almeria City, while pedestrians, without doubt thinking that this car could only contain a bishop, would cross themselves as it passed them by. Big Mistake!


In fact, it was the irreverent John Lennon, the star of the film 'How I won the war', which at that time was being shot in the natural scenery of the nearby Natural Park of 'Cabo de Gata'. Lennon had his headquarters at Romero's house in the outskirts of the capital, where he spent most of his free time listening to songs from The Mamas & The Papas.

There he celebrated his 26th birthday, attended by Ringo Starr and Joaquin Luqui, a popular radio host and music critic. Joaquin convinced the group to let him work for them as a waiter, and never forgot the extravagance of John Lennon who brought food in by plane from London, claiming that he had stomach problems.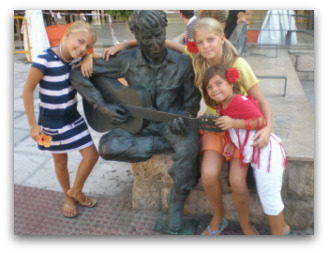 And there, in the same house that the Almeria City Council will soon convert into a museum, John Lennon composed the song: Strawberry Fields Forever.

Weird huh? - John Lennon imagining himself strolling through fields of strawberries in the desert of Almeria….


Today in remembrance, you will find John Lennon with his guitar sitting on the 'Rambla' in Almeria City.
Return from Strawberry Fields Forever lyrics to Unique Almeria

or Visit Almeria's Top Filming Locations

or Have a tour through Mini-Hollywood

or Jump into Sergio Leone and Clint Eastwood's footsteps...
---