Welcome to the best beach in Spain:
- Playa de Monsul -
- where Steven Spielberg left his footprints -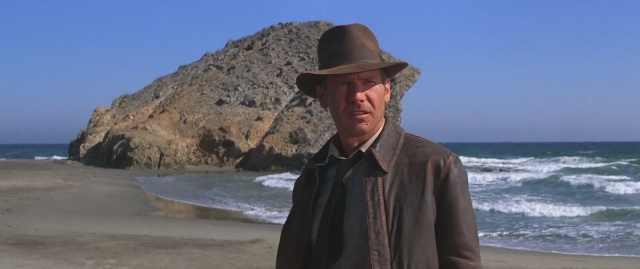 Quicklinks

"This is the best beach in Spain", Steven Spielberg thought when he decided to use it as the set for the scene in which the father of Indiana Jones brought down a German plane with his umbrella shooing away a flock of seagulls. As these birds are difficult to lead, they had to bring pigeons. Hence the urban legend that says that today's pigeons to be seen in the sandbanks are the descendants of those winged cinema stars...
We have explored the Monsul beach over and over again, we have snorkeled, sunbathed, strolled around and YES, it could be the best beach in Spain and it is located in the: Natural Park of Cabo de Gata Níjar.
Best Beach in Spain: Playa de Monsúl ?
You decide!
---
Its 400 meters in length are divided into two parts by a curious tombolo which features beautiful sea erosion.
Its magnificent sands are developed on both sides of this fossil prominence and there is a huge mobile dune close to the creek.
The water is not very deep and children can enjoy the quality of its crystal clear water, see fishes swimming around their legs. It is an ideal place for seabed lovers. The mountain that reaches the beach, has a rock, ideal for those who like climbing. And its shadow protects from the sun.
This beach could not be more attractive thanks to the quality of its waters.
It's awesome strolling through its banks, recalling that in this unique corner of Almería famous Hollywood directors and actors left their footprints behind.
Movie Location
---
Spielberg and his crew landed in Almeria Province to shoot some footage of the legendary 'Indiana Jones and the Last Crusade'. 
Steven Spielberg, Harrison Ford & Sean Connery during the making of Indiana Jones and the Last Crusade at Monsul Beach (Almeria, Spain)
Malcaminos offers exciting tours even for the most intrepid that run through some of the scenarios. Guadix, Almeria and the Cabo de Gata are other places where Indi and his father had a hard time fleeing the Nazis. (In the picture at Monsul Beach)
Steven Spielberg, Harrison Ford & Sean Connery during the shooting of some Indiana Jones and the Last Crusade scenes in Almeria, Spain.
And here is the footage you might have seen in the movie, which converted this beach into an authentic Hollywood protagonist ever since! The best beach in Spain? You decide!
Getting here:
---
The nearest location is San Jose and you must take a dirt road, accessible by car, at the entrance of San José on your right (facing the sea). However, during summer months (only), the access is limited and you should arrive at the beach between 9 and 10 am. I know, you are on vacation and like to sleep long, but you can continue your nap on the beach. - After 10 am it is likely that you will find the access track closed. The local authorities however, offer a public bus from San José  at a fee they establish every season (last year we paid 4 € / person), which will take you to Los Genoveses , Cala Barronal, the Monsul Beach and/or Cala Media Luna. Alternatively you can go on foot....
.

Ver
Map of Almeria (Spain)
en un mapa más grande
More pictures to give you an idea...
---
Alone with Mother Nature (well...almost.. if it wasn't because of the photographer ...) 
View from above, in summer it gets lively!
Volcano beach, fine black sand and crystal clear water invite to take a dip.
See Reviews from other Visitors:
Movie fans visit Playa de Monsul Review submitted by Ray (Suffolk, UK)
Return from the best beach in Spain to the Natural Park of Cabo de Gata or

Check out our CABO DE GATA - BEACH GUIDE here >> or Explore one of the following beaches that you will find on your right and left from Monsul Beach:
---
---