Barronal Beach
... a hidden cove near San Jose (Cabo de Gata Natural Park)
Beach Guide | Cala Barronal
This beach belongs to the coastal village San Jose and nestles between the most famous beaches of the Natural Park: Los Genoveses and Monsul Beach. Being these only a few European Topless beaches where nudism is tolerated too.
Click on images to enlarge and run slide show!
All you have to do once you have left the car is take a sandy hiking trail down to the beach, passing through beautiful sand dunes and nature scenery, not too complicated. If you wish, you can climb on the neaby mountain from where you will have wonderful views of the whole area.
The Barronal beach is not very large, more or less 100 meters of fine sand and about 20 meters wide and if you come here on a perfect beach day, without any wind, then the water will be very calm, since it is a protected little bay.

From Genoveses or Monsul to Barronal
It is an experience that will not disappoint anyone: throw a bag over your shoulder, take some water and something to eat, and hike from the bay of Los Genoveses, bordering the sea ....
 ...or climbing over the sand dunes from Monsul beach. In just about 15 minutes walk, you'll be surprised to find quite spacious and idyllic coves literally empty even in high season, namely August. Stop where you please or keep going, and each cove will leave you with your mouth open ...
The morning I strolled around here to do some photo shooting, while the family was lazying beneath a huge rock at the nearby Monsul beach, there were only view people, some of them you could tell had slept there overnight in a tent and were just waking up. 
I also found some small abandoned boats wreaks on the beach, asking myself if these belonged to some poor African people that stranded here in search of a better life, as it was reported ever now and then on the news.
Facing the sea on the right, I spotted some beautiful volcanic rock formations and decided to climb a bit in order to see how far I could get... As I soon found out not too far with my beach flip flops, these were definitely not an adequate footwear to climb over volcanic rocks. 
I was marveled by the beauty of the surroundings, ideal for snorkeling and a geology treasure!
After some meters parallel to the beachfront, I could see from the top of a cliff a wonderful little cove, surrounded by impressive huge volcanic walls. Even though it was early in the morning, I was not the first visitor here, a naked guy woke up, looked at me and turned me his back. - Since I am shy, I decided to not climbing down but returning the same way back. 
The sun started to shine stronger and I was thirsty and starting to feel hungry too. Time to hike back to Monsul beach, where the family was awaiting me with a delicious picnic in the shadow of the rocks.
Getting here:
---
Follow the same road indicated from San José passing Los Genoveses beach and before arriving at Monsul, park your car looking for the signpost on your left hand side pointing to the Barronal Cove! (Read my detailed description about how to get to Los Genoveses beach here >> )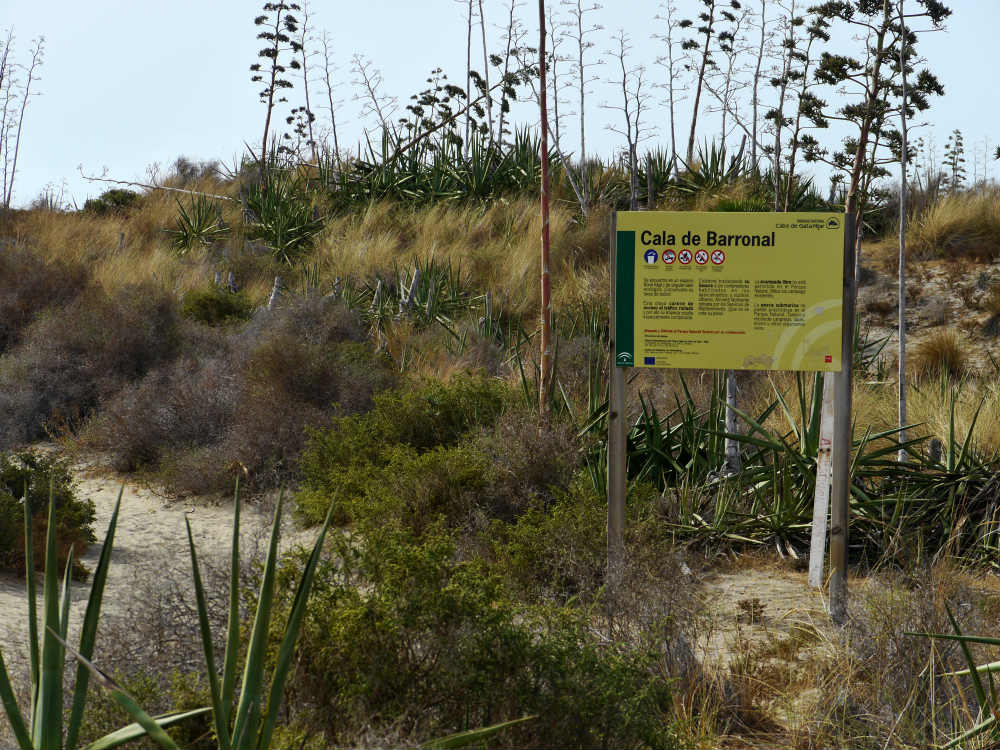 Get a detailed route from Google maps or download your POI for your Navigation device: Lon:-2.139308452606, Lat:36.729632370665
Ver
Map of Almeria (Spain)
en un mapa más grande
---
Go to Top of Cala Barronal, check out our Cabo de Gata Beach Guide here >> or explore one of the following beaches, on your left and right from Barronal:
---