Lentils recipe
..maybe one of the best Spanish chorizo recipes too

My lentils recipe: I have guests at the weekend. It's only an overnight stop whilst en route back their home in France. They aren't French but after years in Germany and France they are more continental than British. They also happen to know good food when they see and taste it, so cooking their supper on Sunday evening will be an interesting challenge on my part. 
The supper will be informal and laid back so nothing too fancy. Tasty and wholesome is the order of the day. Of course having just finished watching the Rick Stein Spain series , it would be wise to go safe and try out something that he prepared during the series. A lentils recipe, typical Spanish 'casera' cuisine should go down well, and with my added 'twist' to the dish it's likely to be a safe bet.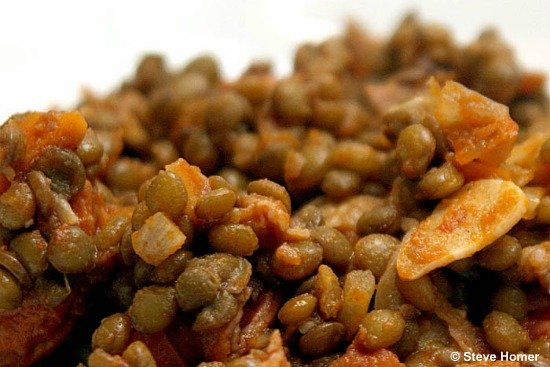 I have always avoided cooking with pulses, grains or such like due to the need to soak the pulses, but time is on my side and I have plenty of time to prepare in advance. Well, at least that's the theory! I'm not even aware if this dish has an official name but it has a lentils recipe base with Serrano ham and tomatoes and carrots plus the usual sprinkling of onions and garlic etc…but I didn't use the Serrano ham preferring to replace it with Chorizo - this is how it goes;


Ingredients

Two medium cloves of garlic chopped finely

One finely chopped large sized onion

Two medium sized carrots finely chopped

Four skinned tomatoes (large)

Pimenton

Olive oil

Salt & pepper

300 g lentils

Optional but I used two sliced chorizo
Method

Soak the lentils in cold water overnightThe following day when you intend to prepare the dish, cook the lentils in fresh clean water as per the instructions on the packet i.e. for about 
In a frying pan with a little olive oil, sweat off the garlic, then add the onions and sweat these down too, followed by the diced carrots. 

Add a teaspoon of pimenton, to your taste and stir in 

Add the slices of chorizo 

Add the chopped & skinned tomatoes and cook through5. Finally, drain the lentils, reserving some juice in case the dish is too dry, and add to the mixture – serve in a rustic Spanish earthenware dish.
To serve
Serve hot with a baguette of crusty bread.
Optional
You can accompany this dish a small dish of 'patatas bravas' if you wish.
Go to Top of Lentils recipe
---
---
---