Clams Recipe
One of those easy seafood appetizer recipes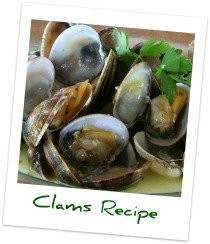 Clams Recipe: You'd be forgiven for thinking that as a foodie I have always been keen on all foods, with no question of hesitation for any dishes. That hasn't always been so and there still a few foods I'd prefer to avoid rather than try, tripe for one. When it came to seafood, and particularly crustaceans, I shied away until my late thirties and my time working in the Middle East. 

My mother however, has always been a seafood fanatic and clams still are one of her all time favourites. I therefore include this wonderfully simple recipe as a dedication to my mother rather than merely a dish just for my readers. It is both simple and delicious, and of course now I'm a full convert to most things seafood.
Serves 4 Before cooking, ensure that all the shells are closed (discarding any that are open).

Ingredients:

1 small onion 

2 cloves of garlic 

5 ml grated fresh ginger 

30 ml Olive oil 30 ml chopped parsley 

500 gms fresh clams in shells 60 ml dry white wine salt and black pepper Parsley for garnish 

Optional: You can also use spices such as turmeric and chilli pepper to spice it up...Method: 

Place the onion, garlic and ginger in a large pan, add the olive oil, and chopped parsley and stir-fry for about 5 minutes. Add the clams to the pan and cook for about a further 2 minutes. Add the wine, then cover and cook gently for 2 - 3 minutes, shaking the pan occasionally to evenly distribute the contents. Add seasoning. If any of the shells have remained closed, then discard these. Garnish with chopped parsley, and serve with fresh crusty bread. 
Go to Top of Clams recipe
---
---
---