La Cantina
Mexican Cuisine - Mojacar Playa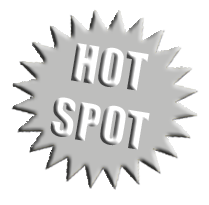 Name: Restaurante La Cantina
Category: Mexican Cuisine
Address: Paseo del Mediterraneo 2, Mojacar South Beach
Telf: 950 47 88 41
Opening Hours: Winter - Thursday to Sunday inclusive – 19.30 to midnight or close. 
Summer – open daily 19.30 to midnight or close.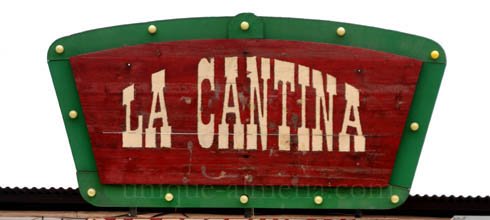 Review:
What more can be said about Mojacar's original Mexican restaurant that hasn't already be said before?  This Restaurant has been at the forefront of Mexican cuisine for the past 18 years. With an enviable location, (an elevated  terrace over looking the Mediterranean Sea,) and the best golden beaches in the area, accompanied by the greenery of Tito's el Beachbar, on the Mojacar South Beach stretch. 
La Cantina first opened its doors in 1995, and has become a firm favourite of many locals and visitors to Mojacar ever since. The site has seen many changes over the years, and indeed there are plans afoot to do extened the premises and the new outside terrace, so popular has it been. The interior is cosy and terrace (which incidentally is enclosed in winter) larger. 
Mexican is probably the best known of the South American cuisines outside of their continent. Whilst it's not known for mainstream creativity it is homely, comforting and delicious food.  Mexican food is known for its strong flavours, but it isn't spicy-hot or piquant when it arrives at the table (though there are exceptions). The picante flavour is added with chilli and salsas. Whilst the menu reflects many of the regular Mexican favourites, Tacos, Quesadillas, Enchiladas and of course Chilli con carne, there is a new emphasis on delivering the very highest quality food, and of course service with a smile. The Quesadillas I tried are particularly good….
When it comes to drink, Mexican and Indian cuisine face the same culinary dilemma. Does one drink wine or beers with Mexican food? Maybe it is due to the introduction of strong flavours and spices combined with a lack of knowledge of "what wines match what food". For me at least, I prefer to stick with the Mexican beers that La Cantina serves. Cold and straight from the chiller. Whatever you order in the way of food and drink it won't disappoint.  Be bold with Mexican food and go for the more adventurous dishes…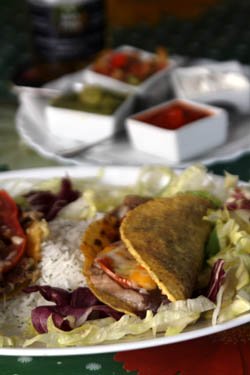 Prices: 
Starters from 7.00 €
Nachos range from 9.00  €
Tacos from 6.50 €  
Ensaladas from 7.50 €  
Quesadillas from 6.00 € 
Fajitas 25.00 € for 2 people
Tex Mex Specials from 8.00 €
Wines:  
House wines 8.50 €
Riojas from 12.00 €
Cabernet Chilean from 18.25 €
Navarra Rosé 12.00 €
Verdict: Highly popular Mexican with the tourists and locals. With restricted winter hours it would be a good idea to book.
To keep up to date:
To keep up to date with what's happening at Restaurante La Cantina please visit their Facebook page 
Go to Top of Restaurante La Cantina or search for more Restaurants in Mojacar.
---