Best Tours of Spain
Boat tours along the coastline of the
Natural Park 'Cabo de Gata-Nijar'
Top tours of Spain: 'Cabo a Fondo' invites you to experience the coastline of Cabo de Gata, inaccessible coves, volcanic cliffs and scenery of unforgettable beauty only to be seen from the sea. 

You will see volcanic sand beaches forming dunes that enter into the mountains, rocks with layers of different colors, shapes and textures with spooky sea caves where the pallid swift nests . A magical still untouched landscape.
This is an opportunity to explore inaccessible and hidden spots with steep cliffs, coves and during migration time, you may even experience the most axtravagant spectacles of nature: flying fish jumping out of the water and literally flying on the surface!

The Tours
---
Depending on the sea and weather we choose one of the different tours, always looking for the place that has better weather, since the wind forecast is not very reliable. All routes are of exceptional beauty and each has its peculiarities wonderful scenery.
Click on image to enlarge: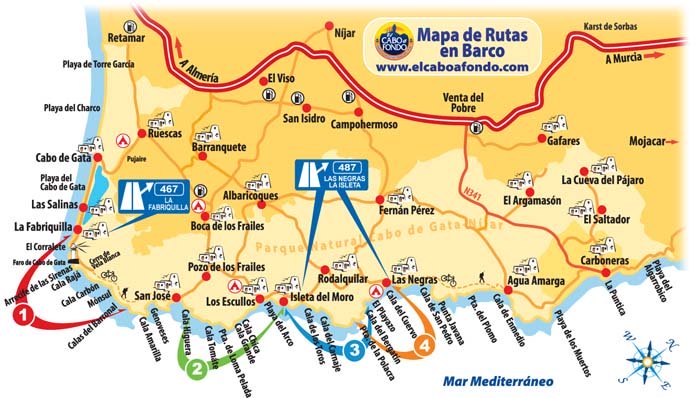 Boat Type:
---
The boat is semi-rigid which means that the hull is made of fiber (rigid), surrounded by an air float (zodiak type with seats) with several separate compartments preventing deflation. These characteristics make it virtually unsinkable. 
 These type of boats are very stable in navigation and are chosen when security and stability is required, such as rescue crafts.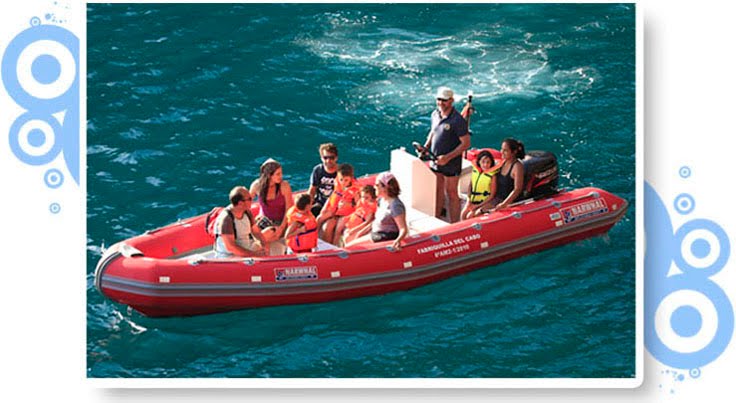 Schedules | Duration | Price
---
Estimated Travel Time:  one hour 
Price Route:      Adults: 20 €  | Children: 15 € (up to 12 years old) 
Departure Times: 
     09:45   11:00   12:15   13:30 
     16:00   17:15   18:30   19:45 
It is vital to BOOK IN ADVANCE and be at the boarding place 15 minutes before departure time.
Place of Departure: 
     - Fabriquilla Beach
     - Playa Isleta del Moro 
     - Playa de las Negras 
IMPORTANT: 
Schedules may be adjusted according to demand and weather conditions. 
The place of departure and route will be chosen, depending on sea conditions. 
All this information will be provided in the moment of reservation and any changes will be communicated as soon as possible.
Go to Top of Top Tours of Spain
Information and Reservation
---
Tel: (+34)  637449170
or contact by means of the following email form:
---
---