Welcome to Almeria,
Spain's best kept secret hideaway
'What or where on earth is Almeria?'.. Did I read your mind? Well, here we go:
Video courtesy: Diputación de Almeria (Almeria County Council)
You surely know Spain and you even might have travelled to a few of Spain's Regions, visiting a variety of Spanish cities. Perhaps you have even been to Spain's Southern Region of Andalusia…
BUT, do you know Spain's best kept secret? – ... where the sun has gone when it disappears in the rest of Spain? – It has gone to:
A
lmeria
This still "unknown" province of Andalusia (Spain) and yet very unique place in Europe is ideal for those, who are looking for a real hideaway, unspoilt nature, plenty of sun and adventure. 
Plan your Holiday
---
Few places have the natural beauty of this Andalusian province. It's geography is so wide-ranging that it combines the beautiful mountain scenes of the Sierra Nevada Nature Park with the spectacular beaches of the Cabo de Gata Nature Park.
Here in this breathtaking and different Andalusian Province, you might find out that:
Nothing in life is what it seems to be:
You thought that most spaghetti westerns were shot in Texas or Arizona? - NOPE! Sergio Leone discovered this corner of Spain in the 60s and since then it has become a film location for countless movies and commercial spots.

 

You were confident that John Lennon must have composed his evergreen song 

'strawberry fields forever'

 in a cosy cottage overlooking a strawberry - NOPE! He got inspired right here, in the Desert of Tabernas. Strange, isn't it? 
Don't miss...
---
Urban Legends
During your stay, you may come across many urban legends, like the birthplace of Walt Disney being Mojacar or when visiting Mini Hollywood, you may stumble into Henry Fonda's secret son, like I did. And of course, before you explore the Cabo de Gata Naturalpark, don't miss to read about Federico Garcia Lorca's Blood Wedding!
Be prepared, this province will surprise you!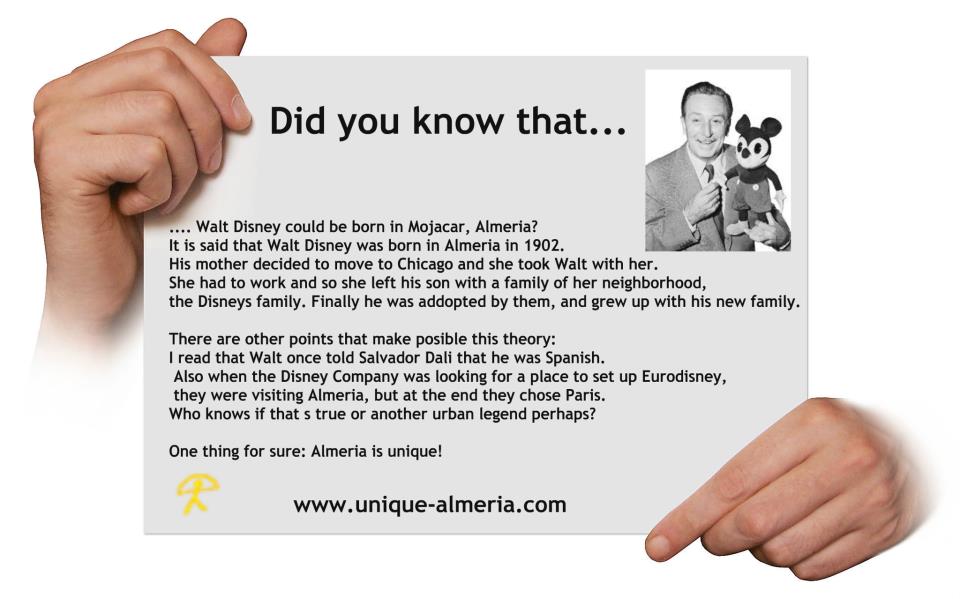 (click on image to enlarge)
---
Take a trip to the center of Earth or explore the Universe..

Don't miss visiting Europe's most important and impressive karst topography namely the caves of Sorbas and you will be surprised by the treasures this province hides. Did you know that the world's most impressive geode was found in this Andalusian Province?

But maybe you would prefer exploring the Universe at Calar Alto observatory... No matter what you are up to, in this province you will enjoy pure adventure!
Fancy some unique Spain vacations?
From the volcanic regions and awesome beaches of Cabo de Gata and the desert regions of Tabernas, to the fertile foothills of the Alpujarra, the gateway to Sierra Nevada..
...whatever you prefer, mountains or beach, snow or sun..
Almeria has got it all!

Stick with me and uncover one of Spain's best-kept secret hideaways and, who knows, you may end up with some unforgettable Spanish holidays!
Have fun!

Spanish weather - Almeria weather forecast:
TABLE OF CONTENT:
Find it quick: Search this site
---
---