Hotel Catedral Almeria 
****
Directory | Hotel Catedral Almeria
You will find this four star hotel in the historic center of Almeria. And as you might have guessed, it is located next to the cathedral. The hotel has maintained its original neo-classical façade dating from 1850, while it has gradually been incorporating contemporary style. 
Some nearby attractions include the Cathedral, the Alcazaba Fortress, Castillo de San Cristóbal, the Santo Domingo Convent, the Church of San Juan, the main shopping district of the city and the stunning beach.

The Hotel:
---
Each of the 20 rooms in the Hotel Catedral Almeria is tastefully decorated to create a cozy atmosphere.
Number of rooms: 20

All rooms are fully equipped so that you won't miss anything during your vacation, it includes bathroom with hairdryer, satellite TV, telephone, safe, wireless high speed internet, air conditioning and minibar.
The facilities available to you at the Hotel Husa Catedral are superb and very varied so that you will enjoy the most. It also includes a delicious breakfast buffet each morning, an elegant à la carte restaurant, a bar, conference facilities, Internet access, reception open 24 hours a day and parking.

Note:
While I do recommend this Hotel, before you decide
you may want to check out the latest unbiased traveller reviews about Hotel Catedral Almeria here >>

The Restaurant:
---
This Hotel and its prestigious Chef Tony Garcia, have reached a strategic agreement, which would be better defined in gastronomic terms, as a merger between Joseph Torrente, as Partner-Consultant on food, and Tony Garcia, Director of Food and Beverage at Hotel Catedral .
Thus you now may enjoy the newly opened "Tony Garcia Bar Catedral", where you can taste the classic tapas of Almeria as well as delicious dishes.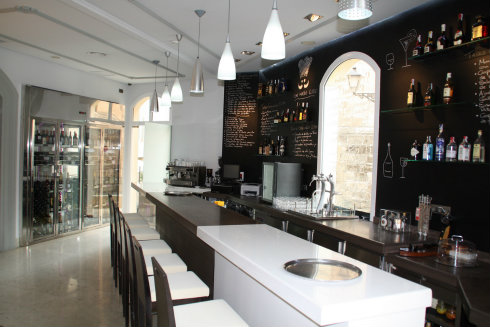 After dinner, during the evening and night, you have the option to enjoy cocktails in the Cathedral Bar or on the terrace.
---
Go to Top of Hotel Catedral Almeria or check out more Almeria city reviews here >>
---
---