Envia Golf Wellness & Spa Hotel 
****
*
Directory | Envia Golf Wellness & Spa Hotel
This five-star Hotel majestically overlooks a valley, surrounded by mountains with views to the Mediterranean sea. It boasts a beautiful golf course and a 5000 sqm Spa and Fitness center.

The Hotel:
---
The modern, elegant design with an Andalusian touch together with a wealth of facilities and services, will make you feel at home immediately. 
Enjoy the views from your room, drift away and relax in the Spa after a good golf party and enjoy the outstanding gastronomy, because you deserve it !
Number of rooms: 127 distributed over 7 floors

Choose between: 
Standard Room: all with views to the mountains. 2 beds (105cm).
Preferred Room: all of them have balconies or terrace and spectacular views to the sea, golf course or garden and pool. Beds: either a doble bed (150 cm) or 2 beds (135 cm) each.
Grand Suite: boats a terrace with chairs and mattresses for sunworshipers as well as spectacular views. Living room, bathroom and bed (150 cm). Pillow Selection!
The rooms are equipped with internet connection, TV, Min-Bar, Safe big enough to fit a labtop, bathroom and shower, aircondition, ironing board and iron. - 24 hour room service.
A Luxury Hotel for the perfect romantic golf holiday or week-end break. 

Note:
While I do recommend this Hotel, before you decide
you may want to check out the latest unbiased traveller reviews and the best deal for Envia Golf & Wellness Hotel here >>

Restaurants & Gastronomy:
---
St. Andrew: Serving a varied breakfast including diet products.

El Mirador: Offering lunch and dinner. Typical Mediterranean cuisine including local dishes.
La Cabaña:  Snackbar for a quick meal, drink or coffee.
Wellness, Spa & Fitness
---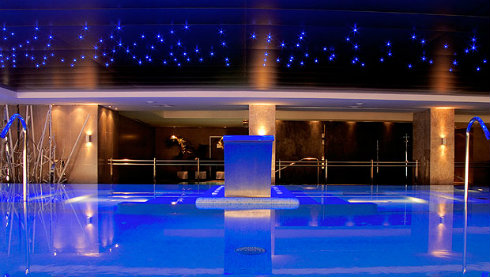 VITAL SPA CIRCUIT EXPERIENCE
Within the range of Spa offering in Almeria, Envia Golf Wellness & Spa Hotel is known as one of the most important ones, because of its wide range of offers and variety of facilities. It is a very special place dedicated to the well-being of body and mind.
Discover the revitalizing power of water and chromotherapy baths to remove the tiredness and stress of everyday life.
Recommended duration of a Vital SPA Circuit: 90-120 min.
You do not need to stay at the hotel to enjoy the spa and the wide range of treatments offered at its facilities.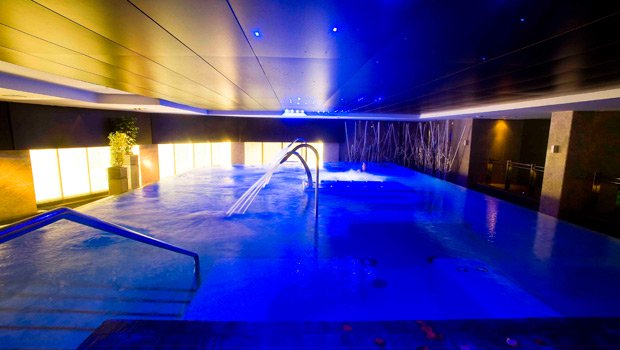 Vital Spa is designed to come to relax any day (Day Spa) or in addition to a sports program. For spa and wellness fans, there is a subscriber category, premium or excellence with unlimited access to the spa circuit. Another option are the bonds of 5 to 10 circuits that include spa discounts. You can also find a wide range of beauty and relaxation programs, all of which include a spa circuit. 
---
Go to Top of  Envia Golf & Spa Hotel or check out my other Golf Hotel recommendations here >>
---
---