Aquelarre Mojacar
Bar - Restaurant Mojacar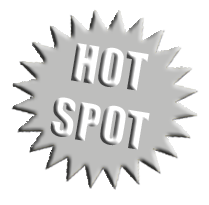 Aquelarre Mojacar:

Category: Spanish bar and small restaurant
Address: Multi Centro, Plaza Nueva, Mojacar Pueblo, 04638 Mojacar
Telf:+34 699 82 62 79
Opening Hours: Summer: 11.00 to 16.00 - Evening 18.00 to close. From October - Closed Tuesdays
Review:
Previously German owned this small but quirky bar has recently been taken on by a local Spanish businessman, Jose Antonio Moya Gonzalez, who also owns a very lovely small off-licence and gourmet shop (De Autor) on the floor below the bar. Jose is a popular figure in the village and it is through his connections and popularity that the bar is now doing well after a slump of many years. Located high up above Mojacar Plaza Nueva in the Multi Centro shopping precinct, the bar/restaurant area is small, seating approx 60 covers, partly on a terrace overlooking the square, partly in the shopping precinct and partially indoors.
On the many occasions I have visited the Aquelarre Mojacar bar there is a new air of freshness with Jose's direct influence and input to the establishment. This can best be described as a small but typical Spanish bar now. In view of the fact that Jose is involved in the wine trade through his shop, De Autor, the wines served here are generally local to Almeria Province and the Alpujarra mountains. If there are any in particular that take your fancy then you can easily pop down to the shop and buy that very same brand in Jose's gourmet shop. Whilst I only occasionally visited it under German ownership, it is now fast becoming one of my favourite bars to frequent. The bar has WIFI that can be picked up from De Autor
Much of the food here is traditional Spanish 'casera' (homemade) cooking. Starting with the tapas Bar Aquelarre offers a range of Salmorejo (an up market refined version of Gazpacho – actually I find it more preferable to the more famous gazpacho), patatas a lo pobre (potatoes of the poor), patatas alioli (garlic potatoes), ensalada rusa (Russian Salad). When it comes to the restaurant menu, naturally Iberico Ham features high on the list but there are also some other interesting dishes too...rulo de cabra con mermelada de pimiento (Goats Cheese with a spicy marmalade jam) and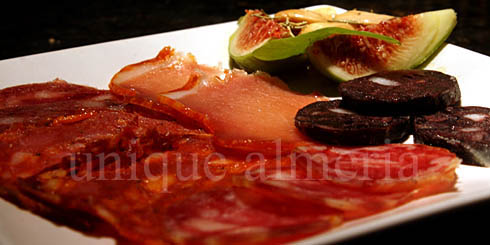 Gamba de Garrucha con flor de sal del Cabo de Gata (Garrucha prawns with sea salt from Cabo de Gata). All foods can washed down with a choice of local Almeria wines such as Cristina Calvache white for 16€ per bottle or if you prefer red, my choice would be Tetas de la Sacristana which they offer at a reasonable 12€ (you'd pay 16€ per bottle in the city). If you don't want local then there is a good choice of Spanish wines from other regions, but expect to pay a little more. For me the Cristina Calvache white made from the Jaen grape (which is not used anywhere else in the world) is the best around this region. The Calvache's are known as award winning wines and their red is equally good, and is also available at Bar Aquelarre Mojacar.
Specialities: Bar Aquelarre's specialities of the house are Croquetas con setas del bosque (Wild mushroom croquettes), Presa Iberica (Iberian Pork). I particularly like also the Bacalao de Salsa de la Casa (Cod with sauce of the house).
Costs: Starters range from as reasonable 7€ through to 12€, mains 8€ for pastas to 18€ for steaks. If Jose buys from the butcher in the village then the steaks should be pretty good, as I can vouch for the butcher, having been a resident of the village in the past.
Verdict: Recommended.
To keep up to date: You can find Bar Aquelarre on www.gourmetalmeria.com or on Facebook
Back to Top of Aquelarre Mojacar Bar or search for more Restaurants in Almeria >>
---