The Crazy Cow Café
Mediterranean (& some British) cuisine café
Mojacar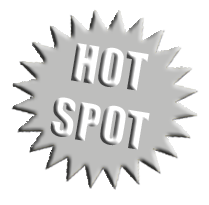 Name: The Crazy Cow Café
Category: Mediterranean (& some British) cuisine café
Address: Paseo del Mediterraneo 131, Mojacar Playa, 04638
Telf: 634386140 or 697465620
Opening Hours: Open Monday to Saturday from 11am - Closed Sunday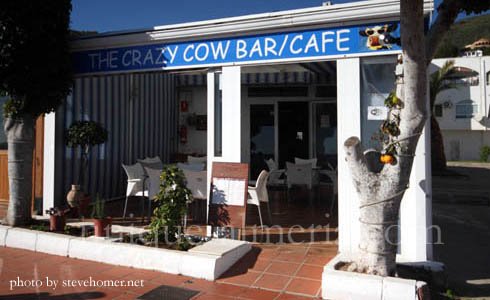 Review:
If ever there was a more deceptive café in the area, then I have yet to find it. Mikki and Sarah who run this excellent café developed a loyal following when they were located at the other end of the playa in a bar owned by a third party. Having sampled the food and the hospitality at The Crazy Cow Café, on more than one occasion, it does not come as a surprise to find that the loyal fans have continued to follow Mikki and Sarah to their new location.
What impresses me most about the premises are that they are always spotlessly clean and tidy, and none of this habit of keeping fridges in the café area so very typical of Spanish cafés and bars. The décor is tasteful and customers have terrific views over the road to the Mediterranean Sea, from the small but airy terrace that can be opened up in the summer to take advantage of the Spanish sunshine.
For a café the food is first class, and all ably prepared by Sarah, who certainly knows her way around a commercial kitchen.
It's an intriguing menu of small plates (not tapas and not raciones) about the size of a 'half raciones', but at very affordable and in some cases ludicrously inexpensive prices. The menu has everything from Mussels with Garlic Cream to Chicken Curry to Seared Pork Fillet with Mushrooms in a Creamy Mustard Sauce. The homemade Burgers are truly homemade and are a big favourite with the regulars. Nothing is deep-fried and all dishes are prepared from scratch, to order.
I have tried many of the dishes and it is really difficult to come up with a true favourite. The Tuna Fishcakes are delicious, the Cottage Pie excellent and the Chicken with Red Peppers and Onions was super. For those with a big appetite you can order three plates and still walk away with spending less than 10€. How can any one complain at that? Or indeed how do you pick a favourite when it is all so good?
Mikki and Sarah are also happy to offer menus for parties and functions, including a design your own menu service for Birthday's, Anniversaries etc.
Specialities: It would be unfair to try and pick out 'specialities' at The Crazy Cow Café as all the food is excellent quality, and much of it healthy too. For those suffering from gluten intolerance then much of the menu is suitable for you. If you want gluten free pasta then let Mikki and Sarah know in advance as they can accommodate you on that score too.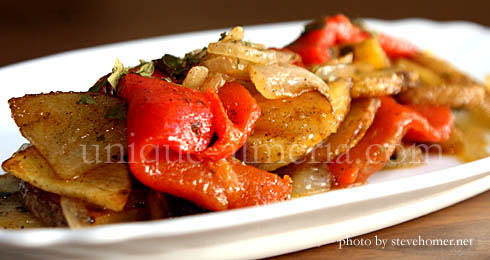 Costs: Plates start from as little as 2.50€, many at 3.00/3.50€ and a few at 4.00/4.50€ and a couple of the more exotic dishes at 7.50€ but this is all high quality food.
Wines: from the glass 2.00€ - house wines 7.00€ and other quality wines upwards of 7.00€
Verdict: If you are on a budget or even if your not, and you want high quality food, then this is the place to visit. The Crazy Cow Café has a great menu, excellent food, great location, with hospitality and service to match. Very highly recommended.
To keep up to date: To keep abreast of what's going on at The Crazy Cow Café I recommend you follow their Facebook page
---
Find more nearby Restaurants in Mojacar or check our Almeria Restaurant Directory.
---
---