Saffron
Restaurant Mojacar Playa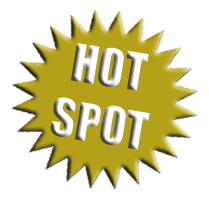 Category: Saffron Restaurant is International with a North African/Moroccan influence
Address: Paseo del Mediterraneo 207, Mojacar Playa, Mojacar 04638
Telf:+34 950 472 481
Opening Hours: Saffron is open for lunch at 13.00 through to 16.00 and from 7pm to 11pm Tuesdays to Sunday inclusive - it is closed Sunday evenings and all day on Mondays.
Chef:

Review:
This is newly opened restaurant on the beach front of Mojacar Playa with a pleasant sun-catching terrace has taken Mojacar by surprise.
Owner/manager Spanish born Maria Bazan, who in herself has run a number of very successful business ventures elsewhere, has created an elegantly tasteful but atmospherically warm interior with a Moroccan feel. The menu is international with a leaning towards north African and especially Moroccan, due to Maria's previous love of Marrakesh. As you would expect, this food is of the highest level and would be appropriate gracing any 5 star hotel restaurant, anywhere in the world. The presentation is second to none and has an astounding subtle mixture of flavours that abound in the dishes.
In addition, the menu includes traditional Moroccan tagines, (I particularly like the beef and prune dish), and a creative selection of desserts, including a delectable Mandarin and lemon soufflé. It is also great to see a cheeseboard available either as a dessert, an optional extra dessert or you can just pitch up and have a cheeseboard and a bottle of wine whilst you overlook the Mediterranean Sea and the beach opposite.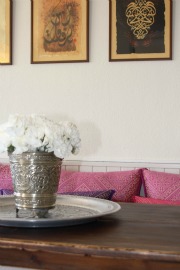 The wine menu is comprehensively Spanish, (even local with wines from Northern Almeria) including the usual Ribera del Duero and Rioja, with a single French champagne, Moet & Chandon included.
Service is attentive to just the right degree, and the effervescent owner/host Maria speaks a number of languages making it really easy to convey your needs and comments.
Chef's specialities: Tagines, but frankly it is all recommended!
Highly recommended: All of it – it's excellent! Arguably this is the best restaurant in the area. It ranks alongside the restaurants of Hotel Catedral, Almeria (where the creative Chef Tony Garcia is housed), Terraza Carmona, Vera, Restaurante Juan Moreno, Vera, the Restaurante Alejandro, Plaza Vieja, Almeria (the themed restaurant from Michelin star Chef Alejandro).
Cost: 3 course Lunch menu 12€ excluding wine and coffee
Typical 3 course Evening menu from 20€ to 25€ excluding wine and coffee

To keep up to date: To follow the activities of Saffron it is recommended that you subscribe or follow Saffron, Mojacar on Facebook, where you can not only see some of their amazing food, but also collect some classic North African recipes!

Return from Saffron to Almeria Restaurant Directory >>
---