Restaurante La Bola
Mediterranean Cuisine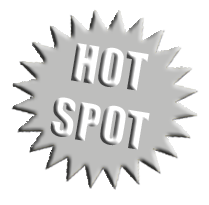 Name:  Restaurante La Bola
Category: Mediterranean Cuisine with Italian dishes too
Address: Vista de Los Ángeles, Mojacar Playa
Telf: 950 478 408
Opening Hours: Thursday to Tuesday inclusive - Lunchtime 13.00 to 16.00 and evenings 19.30 to close. Closed Wednesdays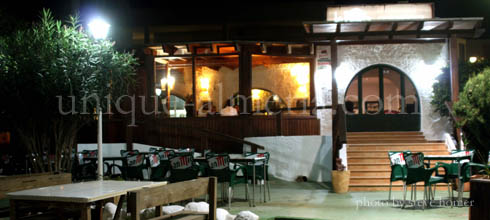 Review:
Let's start by saying that whatever it says outside i.e. pizzeria, this is clearly not merely a pizzeria. In fact I'd go further to say that pizzas, whilst very good, are the lowest level of the culinary fair on offer here. This is clearly a restaurant with a talented and experienced proprietor/chef and an interesting menu to match. When I first visited Mojacar in 2007, Restaurante La Bola was always at the top of many people's favourite restaurant list, and for many it still is top.
In the meantime, let's tell you about the restaurant premises themselves. They can only be described as 'quirky' – I like quirky.  It's a notch-pot (in a comforting way) of small areas, which initially may seem cold but once there people in there the place lights up with natural warmth. It has an excellent location with an enviable garden space attracting the sun for much of the day. 
Inside rough white walls give a mixture of Mediterranean and rustic Spanish feel and the quirky knick-knacks dotted along the walls with some interesting paintings, and a colourful stained-glass cartwheel, give this restaurant a feel of its own – it is unique. There are views over to the aqua blue of the Mediterranean Sea. 
As for the food, it's a surprisingly interesting menu which makes my mouth water. Starters of Carpaccio of Zucchini (Courgette) and Churros of Cod with Mango conserve, Goats cheese with pear, & mincepie with nuts and honey.  Creative and well thought out dishes.
Mains of such dishes as Steak Tartar (made at your table by the proprietor - a very personal service typical of a high quality French experience). Oven baked shoulder of lamb, Magret of duck with blackberries and liquorice sauce. For fish dishes I particularly like the sound of the Puff Pastry Bags of Cod and Spinach with a Camembert Cheese Foam which I have yet to try, French-style Dover Sole, and the Sea-Bream with mushrooms and prawns look appetizing.
The usual array of pastas and pizzas adorn the menu, but for me they are lost in amongst some great creative dishes. A few unusual pastas stand out, like Pumpkin Raviolis with Sage & Butter sauce, Lobster rice Casserole, and Seafood linguini with a spicy sauce. 
The food is excellent quality and offered at reasonable prices. 
Prices: Starters 6.00 € to 9.00 € Fish dishes 11.00 € to 14.00 €  Meat dishes 12.00 € to 20.00 € Pizzas start at 5.00 € or 6.00 €  whilst Pastas range from 8.50 to 16.00 €
Wines:  A good selection of Riojas, Ribera del Dueros, red and white ranging in price from 12.00 € to 38.00 € for a terrific Hacienda Monasterio (Red). Chardonnay white from 12.00 € and Cavas ranging from 18.00 € to 32.00 €
Verdict: Not only have I eaten at this restaurant, but I have also watched the proprietor/chef prepare many of the dishes. I can therefore safely say that the chef is very experienced, the cooking is sound and the food highly recommended. 
The service is excellent, and attentive in just the right measure.  
To keep up to date with what's happening at Restaurante La Bola please visit their Facebook page 
Find more Mojacar Restaurants and Bars here or other places to Eating Out in Almeria Province here >>
---