Harvesting Pink Peppercorns

Pink Peppercorns - article from the Food Blog:
It's a crazy way to make a living, and more particularly to start my Wednesday, but here I am at barely 04.00 a.m. harvesting pink peppercorns from their tiny branches for a shoot for the Comida de Almeria magazine……I still have another full carrier bag of corns to go! 

The great aspect about living in this part of Spain is the sheer abundance of natural foods that grow in the least expectant places. Last month I discovered that el Mirador del Castillo in Mojacar Pueblo, is home to two very wonderful red-pepper trees. Indeed, since their discovery I have also found more of the same in other nearby locations.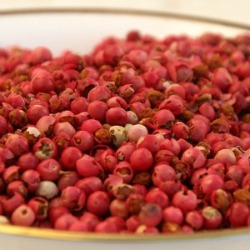 Red pepper corns are more of the unusual type but are ideal for pepper grinders or for grinding your own with a pestle and mortar in order to spice up your favourite dish. It's a laborious task harvesting the corns, but I have to say that the end result is always more rewarding when you know you have gone to the trouble of completing the hard work yourself. Anyway, for those visiting the culinary school, then you'll discover the joys of the red pepper corns yourself as we plan to use them in the courses and of course, subject to supply, sell our own brand of pepper.
---