Mana del Cielo
Pasteleria and Cafe (Bakers and Cafe)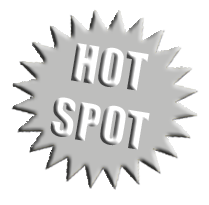 Name: Mana del Cielo
Category: Pasteleria and Cafe (Bakers and Cafe)
Address: Paseo del Mediterraneo 353, Mojacar Playa 04638
Telf: 950 472 154
Opening Hours: Summer season 06.00 to 22.00 – Winter 07.00 to 20.00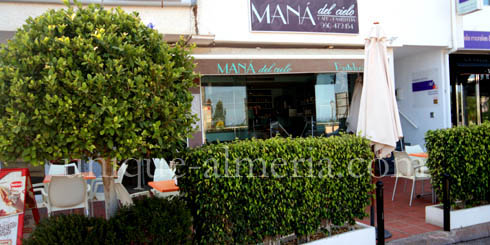 Review: Previously Spanish owned under the name of La Coquette, this pastelaria and cafe changed hands during 2011, and Mana del Cielo was born. This pasteleria and cafe is run by Rachel and David Hay, with Rachel tirelessly making the scrumptious fayre and serving the best tea, coffee and soft drinks. Their team of happy staff, along with gorgeous cakes and pastries, breads and more, make this a 'must' cafe to visit for breakfast, lunch or afternoon tea.
The Cafe is small inside but a larger airy, comfortable and attractive terrace allows for bigger sized groups, (and Mojacar has the all round climate to accommodate an al fresco lifestyle). A smartly maintained evergreen hedge cleverly and subtly separates the cafe terrace from the road.
Rachel and David have imparted their natural enthusiasm on the other staff, (together with Rachel's undying energy), and the cafe thrives on a really happy and welcoming atmosphere.
WiFi is available for paying customers.
Rachel is the driving force behind the cakes with the majority of the produce being made by her....you can tell, it's not Rachel's work, it's her 'passion', which exudes through the produce she creates. The authentic French patisseries are cooked first thing in the morning on the premises (you should be there when the smell is wafting out from the ovens! Wow!), and includes a range of croissants, pan chocolate, caracola, chocolate twists, amongst many others, and of course a variety of freshly baked bread, including rustic and cereal baguettes (healthy and my personal favourite). Of course, you can dine in the cafe or takeaway!
In Mana del Cielo Rachel's homemade produce take centre stage. These include a huge and inventive range of cheesecakes (white chocolate and raspberry, turron (nougat), Mars bar, to name just a few), carrot, hummingbird (banana and pineapple) and zucchini cakes, plus Red Velvet and a Chocolate Guiness to name but a few. Other unusual varieties and flavours fly out of the door as single servings or as a whole cake for some lucky customer's private function. Rachel is always adding new items to the list and they often become favourites such as key lime pie and pavlovas, colourful and of course scrumptious!
As well as the pastries and cakes, Mana del Cielo caters for its growing customer base with great breakfasts (homemade soya pancakes with Greek Yogurt and berry compote, breakfast muffins), light lunches (panninis, salads, sandwiches, quiches etc.) and tostadas...my favourite is the 'Caprese' tomato, mozzarella cheese and avocado tostada – divine! . They also offer baguettes, and you can't get fresher bread than from this baker's shop, with a wide range of fillings on offer...and the majority of these, I am pleased to say, are healthy options for the health conscious. It's also pertinent to mention allergies and gluten free products as Rachel is conscious that there is a growing need for allergy free foods and she is happy to cater accordingly. Best to call in to the shop or telephone them to discuss your requirements.
Specialities: Their specialities have to be the Cheesecakes and the Carrot cakes! They fly out of the door and I over-hear so many people complimenting Rachel or David not just these but all the cakes. Mana del Cielo has a big following by locals and the tourists love it too!
To keep up to date: You can follow Mana del Cielo via Facebook.
Costs: Tea/Coffee start from 1.30€ - cakes and pastries vary in price but start at 1.40€ for croissants, cakes from 2.50€, cheesecakes from 3.00€ and baguettes (bocadillos) subject to filling. Salads from 5.00€
Verdict: High recommended. If you want quality produce at a good value price then you can't go wrong at Mana del Cielo.
Go to Top of Mana del Cielo or search for more Restaurants in Mojacar.
---