La Parata
Bar - Restaurant Mojacar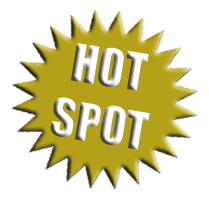 Name: Restaurant/Bar La Parata
Category: International
Address: Avenida La Parata, Mojacar 04638
Telf: 950 478 186
Opening Hours: Tuesdays to Saturdays lunch (from 13.00 to 15.00) and dinner (19.30 to close), Sunday lunch only. Closed Mondays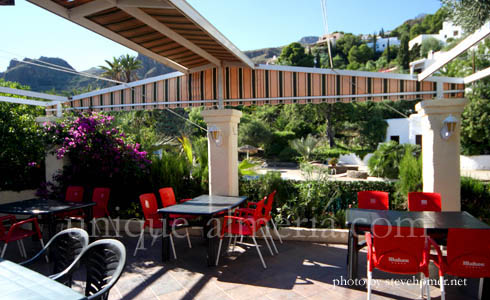 Review:
Tucked away up the hill behind Mojacar Playa is a quirky eatery with a comfortable terrace and a welcoming host. I've known the proprietor/chef Shea ever since I first set foot in Mojacar, as he was a popular maitre'd of a beach restaurant, but many weren't aware of his culinary skills in the kitchen. Now with his own establishment Shea's La Parata is a popular venue with locals and those regular recurring tourists.
The setting is picturesque with a terrace overlooking an inviting swimming pool, and nestled in amongst olive trees and fauna. Lunch times are particularly great as the sun has made its way inland and drenches Shea's terrace. (Don't worry, Shea will obligingly create a shaded spot if that's what you'd prefer).
Apart from delicious food, one of the draws to La Parata is the proprietor himself – nothing is ever too much trouble, and the warmth of the reception is always genuine – Shea revels in meeting new people and ensuring that everyone goes away happy....and full!
The food can be best described as international. Shea's an experienced chef with more than 30 years in the kitchen, so he truly knows what he's doing. The dishes are inventive and well presented. (See photos).
The black pudding with a mustard grain sauce is a delicious starter. Equally the avocado prawns on pineapple is a great combination and I was sorely tempted by the tartar of salmon. My main course was the pea and chilli risotto topped with parmesan shavings. The mixture of flavours and textures was truly excellent, and despite my personal reservations of risottos being too heavy and uncomfortable on my stomach, this was not only delicious but pleasantly light.....and just the right amount.
Of the other main courses, the lamb shank falls off the bone, the chicken is delicious in your chosen sauce, and the salmon fillet has a wonderful crusted topping. All to be recommended.
My stomach is becoming quite a connoisseur when it comes to cheesecakes and the chocolate with a streak of caramel and chocolate is one of the best I have tasted. Other desserts that caught my eye were the Profiteroles, and the Chocolate and Bailey's Mousse Torte swimming in Baileys!!
Specialities: Shea tells me that one of his most popular dishes is the Tornedo Rossini (fillet steak) in a rich red wine sauce topped with pate. (And I can tell you that the fish and chips are going down a storm!!)
Wines: a good selection of quality wines, with house starting at 9.00€ (Barcello). Shea also stocks Rioja's, Ribero del Duero, and from 11.00€ with the most expensive wine at 28.00€ House Cava is Parxet – brut and semi-sec.
To keep up to date: You can keep up to speed with what's happening at La Parata via their Facebook page – if in doubt doubt call the restaurant on 950 478 186
Costs: Starters range from 4.00€ to 9.50€, Mains courses 7.50€ to 22.00€ with vegetarian and celiac friendly dishes. Where any special dietary requirements are first made known then Shea is happy to accommodate.
Verdict: Highly recommended
Find more nearby Restaurants in Mojacar or check our Almeria Restaurant Directory.
---