El Barrio Libre
Spanish Bar - Restaurant Mojacar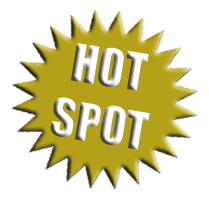 Name: El Barrio Libre
Category: Primarily Spanish 'Casera' Cooking – traditional home-made Spanish food
(Note: The Spanish proprietor speaks excellent English!)
Address: Paseo del Mediterraneo 109, Mojacar Playa
Telf: 950 475 739
Opening Hours: Tues to Sunday 11.00 to Close (kitchen closes at 11.00 p.m.)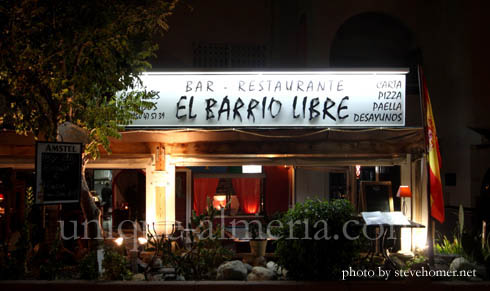 Review:
As the song goes, "What a difference a day makes!" I have previously visited el Barrio Libre under the previous ownership and whilst it was pleasant enough food I can't say I was ever really comfortable dining there. Maybe the atmosphere or the luke-warm enthusiasm of the previous proprietor, but it was never my kind of place.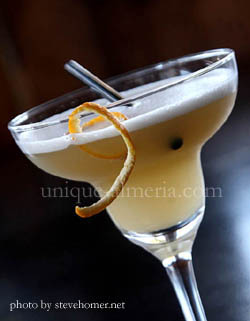 One moment it was there and literally the next moment, overnight, the restaurant had exchanged hands with not a word to its regular clientele. Days later the French restaurant had been transformed into a typical Spanish bar serving GREAT food! All this is thanks to the new proprietor Fernando Carballo (and a talented chef Mercedes Saez) who has had the foresight to see the potential and do things differently.
Rather than investing unnecessarily in transforming the interior of the restaurant (it remains as was previously) Fernando has understood the need to get things right in the kitchen, with customer service and in his promotion. Frankly, he couldn't be doing a better job! The service is warm and welcoming, nothing is too much trouble and the food is truly 'excellent'. With only two people running the establishment I have to say that they both are very experienced and truly understand their respective roles, carrying them out to a very high standard.
When it comes to the food, this bar does not try to be pretentious – Fernando's philosophy is to offer a good drinking bar supported by great tasty food, presented well, at good value. Frankly, el Barrio Libre does just that and more! The Salad of Goats Cheese on Roasted Red Peppers dressed with Balsamic Reduction was a 'knockout', especially at only 6.00€. The Confit of Cod on Potatoes and Scrambled Egg at 7.00€ was unbelievable value and the taste excellent. (See Photos). The home-made pizza (from 6.50€), was just as appetizing as the other two dishes I ate and apart from an inexpensive al la carte menu there is a blackboard featuring new dishes, which subject to their success find their way to the main menu, e.g. Carpaccio of Zucchini with Parmesan Shavings.
The tapas range from the traditional meat-balls to a few more adventurous tempters for you to taste – try the extra-large round potato and meat croquettes with alioli and spicy tomato – they didn't last long enough to photograph!
El Barrio Libre also does a small range of delicious salads and great looking rice dishes including home-made risotto as a starter.
Drinks: Cocktails (including the Strawberry daiquiri and Mai Tai cocktails as shown here), range from 5€.
Wines are very good quality Spanish i.e. Riojas and Ribera de Duero especially good and reasonable too for a quality wine at 1.80€ per glass – bottles (i.e. house wine) start from 10.00€
Specialities: Talking to Fernando he tells me "There are no specific specialities yet. We haven't been open long enough to develop them – we'd like to think that everything we offer is special to each individual customer – we just wish to ensure that the customers are very happy."
Costs: As for costs, you'll be very surprised. Starters as low as 4.00€ - try the Grilled Goats Cheese with Two Marmalades 5.50€ - Homemade Risotto 6€ - Rices from 9.00€ per person - Salads from 4.50/5.50€ - Fish from 7.00€ to 8.50€ - Meat dishes 8.50€ to 10.00€ - See the blackboard for new dishes!
From Tuesday to Friday you can savour a Three Course Menu del Dia (from 13.00 to 16.00) for a mere 8.50€ - knowing the quality of this establishment this has to be incredible value for money!
To keep up to date:
You can keep up-to-date with what's going on at El Barrio Libre via their Facebook page.
Verdict: Very highly recommended. (My only concern now is that this bar/restaurant will become so popular I won't be able to get a table! If it does, then I shall be the first to congratulate Fernando & Mercedes for making this establishment truly work!)
Find more nearby Restaurants in Mojacar or check our Almeria Restaurant Directory.
---