Desierto de Tabernas Natural Park & 'Mini Hollywood'
by Robert Bovington
(Roquetas de Mar)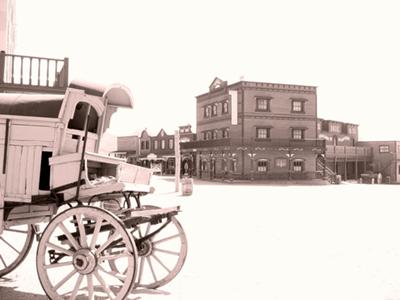 Mini Hollywood
The Tabernas desert is 'Wild West' country - or, at least, it was! If you watched Clint Eastwood in 'A Fistful of Dollars' or 'For a Few Dollars More' to name but two of dozens of spaghetti westerns produced here or seen 'Lawrence of Arabia' you have caught glimpses of the Tabernas desert.


It is located a few miles from Almería, between the great rocky masses of the Sierra de los Filabres and the Sierra Alhamilla. It is a dramatic almost moonlike landscape and what plants that exist within this habitat twist and bend amongst the great cracks in the earth in search of some moisture. Salt cedar, oleander and brushwood have adapted to the conditions of extreme aridity and the local fauna mainly consists of insects, toads, hedgehogs and scorpions. A number of birds can be seen flying over the dry gullies and riverbeds including the swift, rock martin, crested lark and jackdaw. It is the only true desert in Europe.
It may be a desert but I like it. The scenery is startling. The arid yellow ochre landscape contrasts with the vivid blue Almerian sky. The annual rainfall here does not exceed 250mm and the year-round average temperature is over 17 degrees. It has 3000 hours of sunlight per year, making it an ideal spot for a solar energy installation and that is why the largest centre of solar energy in Europe, the
'Solar Platform of Almería'
has been installed in this area.
This area used to be a giant film set - the Italian director
Sergio Leone
made Spaghetti westerns here in the mid 60's and there are still some original film sets scattered around but most are now in a dilapidated condition - except for
'Western Leone', 'Fort Bravo'
and
'Mini Hollywood'
which were rebuilt as tourist sites. When my grandson visited a couple of years ago, I took him to 'Mini Hollywood'. It was a good day out. If you ever visit this area of Spain with your children, I urge you take them to 'Mini Hollywood'. They will enjoy it. I did!