Cuevas de Sorbas Guided Tours
Cuevas de Sorbas is the commercial name of Natur-Sport Sorbas S.L. They offer different guided tours. You can visit the caves in different ways depending on your physical conditions and concerns: 

(Take a 'Technical Tour' here, to see what you may expect…>>) 

Natur-Sport Sorbas, S.L is authorized by the 'Junta de Andalucia'(local Government of Andalusia) and counts on all necessary licences and insurances. So, for your security, I highly recommend you to use their services, and not visiting any of the underground karst topography on your own!

Their tours are quite affordable and prices range between 12 € and 8 € per child. They even offer a three menu lunch at their Restaurant at 20 € per person (prices subject to changes.) Or if you prefer, you can have just a coffee on the Terrace-Bar.
Did I mention that their guided tours may be booked in English, French, German or Spanish?

Ok, time to pick your favourite one:
---
Basic Route:
This one is a simple one and doable by almost everyone. The length of the trail is between an hour and a half and two hours. You will be guided through spacious galleries where you can admire gypsum crystals reflecting in the light of the hulls. There are small pools that are full of water throughout the year.
---
Training Route: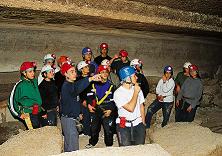 It is an easy one, suitable for school classes. The length is about four hours.
It begins with a tour on the surface where there are sinkholes of dissolution, collapse, potholes and mounds formed in the plaster along the years. After a short break for lunch, the route continues through the 'Yesos' cave.
---
Combined Route: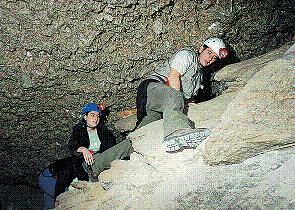 This route is a complicated journey through two very different caves of the Gypsum Karst topography of Sorbas. It is indicated for people with enough agility and the tour lasts approximately four hours. 
---
Technical Route:
A tour for adventurous people who are not obese, and of course do not suffer from claustrophobia. The tour may last between four and five hours. This is a difficult route through a large cave in the Gypsum Karst of Sorbas, the 'Treasure Cave'. You will have to slip down a rappel of about 8 meters…. (Take a virtual technical tour here >>) 

Picked your tour? Just contact them for booking: 
Cuevas de Sorbas
Paraje Barranco del Infierno
04270 Sorbas (Almeria)
Phone: (+34) 950 364 704
www.cuevasdesorbas.com
Getting here: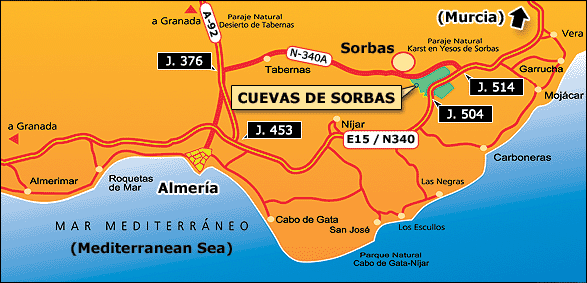 ---
What do you want to do next? 
Take a virtual Cuevas de Sorbas tour
or 
Search for more Almeria Attractions 
or 
Return to Unique Almeria
---
---