Arlequino Restaurant - Mojacar
by Pete Rollinson
(Aguadulce - Almeria, Spain)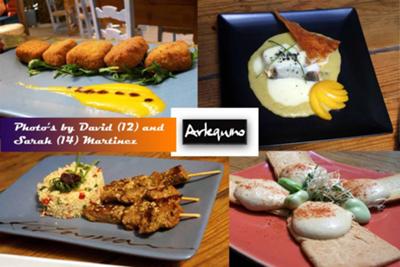 Arlequino - Mojacar
In my last blog I promised to provide some news on Aguadulce Tapas Gastronomy but the weather has not been so kind (high wind and rain).


Semana Santa (Easter) was a welcome break and it was then that my Fiance, her children and I visited
Mojacar
(village - not beach) for the day.
We go there a few times a year and we always discover something new. That day was no exception. The bar I want to mention is
The Arlequino
(The Harlequin) which can be found in
Plaza de las Flores
. The Arlequino is on three floors but the upper two are Summer only. I must say that the upper floor gives great views to the coast if you are there in high season.
The bar is not exactly new to us and the Tapas was good last year but we all agreed that the fayre we were offered on this visit was superb.
Our intention was to have the usual 3 or 4 tapas apiece but because there was four of us and one of us a vegetarian, the waiter suggested that they would provide us with raciones at a favourable price.
First to sample was a vegetarian Moussaka (I'm sorry but it was gone too quick for any photo's!). The next serving was brochettas of lamb served with a vegetable and slightly fruity couscous. Next up was egg plant and mushrooms in breadcrumbs followed by a plate of Oven baked Cod covered in a smooth almost butter sauce. We rounded off the raciones with Humus on toasted bread and some vegetable samosas. For Postre and to finish off a thoroughly enjoyable afternoon we just had to have some homemade Fudge Cake with Ice Cream. As can be seen on the photo's I have submitted, they were taken by my Fiance's children, David and Sarah.... I just twiddled about with 'Photoshop' later! The Arlequino has its own website... It's the only thing I found that needs some improvement.
I promise to provide a blog on Aguadulce as soon as the weather improves. In the meantime I will provide my next blog on our favourite French Restaurant in Roquetas de Mar.
Return to Food Blog